One Home, Three Bathrooms, Each with an Awesome Way to Use Tile
A Vancouver architect collaborates with a team of artisans on a trio of bathrooms in his home.
Though architect Clinton Cuddington was expectedly meticulous when designing a home for his family of four in Vancouver, British Columbia, he was careful to leave select interior elements open for collaboration. "My approach was to create a test-bed for explorations based in local craft," he says. This tactic—with Cuddington as the overseer to a team of talented artisans—is especially apparent in three bathrooms spread across as many levels.
Newsletter
Join the Daily Dose Mailing List
Get carefully curated content filled with inspiring homes from around the world, innovative new products, and the best in modern design
For each space, Cuddington worked closely with Jasna Sokolovic and Noel O'Connell, ceramic artists who run the studio Dear Human. In the upstairs bathroom, designed for Cuddington's teenage children, Sokolovic and O'Connell took basic, off-the-shelf square tiles and added x-shaped decals in a range of tones. The duo then laid out the tiles in a manner that evokes Hungarian needlepoint, a nod to the ancestry of Cuddington's wife. While the arrangement suggests a stylized rose, its gestural quality also permits abstract interpretation.
Two additional bathrooms on the lower levels feature hexagonal tiles designed by Dear Human. For the master bath, located in the basement, Cuddington constructed an exterior retaining wall topped with stainless-steel netting and columns of bamboo that filter sunlight into the low-lying space while maintaining privacy. The first-floor powder room has a concrete floor that, like the others, is softened by natural light.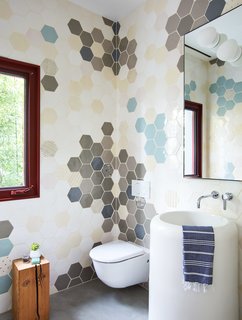 In using mostly affordable fixtures, Cuddington was able to emphasize something he often tells clients: a successful project doesn't necessarily need an elevated budget to achieve an air of exclusivity. Well-considered yet flexible collaboration is often far more valuable. "This strategy needs to have an open-endedness to it," Cuddington notes. "You don't get great art if you micromanage."