Modern Kitchen Renovation with Mid-Century Roots
Architect Janet Bloomberg infused a mid-century kitchen with her 21st-century taste to create a whimsical yet thoughtful new space.
Architects often prod their clients to take chances, but there are some lines that few are willing to cross, like candy-colored kitchen cabinets playing off walls made from particleboard.
Newsletter
Join the Kitchen Mailing List
Get carefully curated content filled with inspiring homes from around the world, innovative new products, and the best in modern design
But architect Janet Bloomberg, of the Washington, DC, firm Kube Architecture, became her own willing guinea pig when she and her husband, Sean, purchased a Charles Goodman–designed home in Silver Spring, Maryland. Bloomberg gutted the interiors to make way for her vision of industrial Pop art.
"The big, important things to me are materials and color," she says. "I wanted to make a happy kitchen."
Departing from all the "wood kitchens" she designs for clients, Bloomberg had her cabinetmaker craft laminate cabinets from Abet Laminati in shades of pale green and turquoise—her favorite hues. "In the shop, they were calling these the Crayola cabinets," Bloomberg says. But, framed within black-tinted concrete counters and gray and black walls made from Viroc, a cement-and-wood particleboard that usually serves as an underlay for other building materials, the look became modern and chic.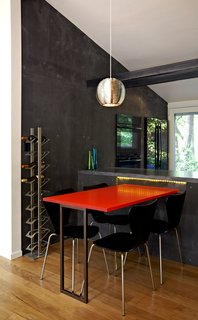 Add a built-in table made from an orange 3form acrylic slab, left over from another job, and the picture is complete: "We have made it a fun place for our family—a very welcoming place."