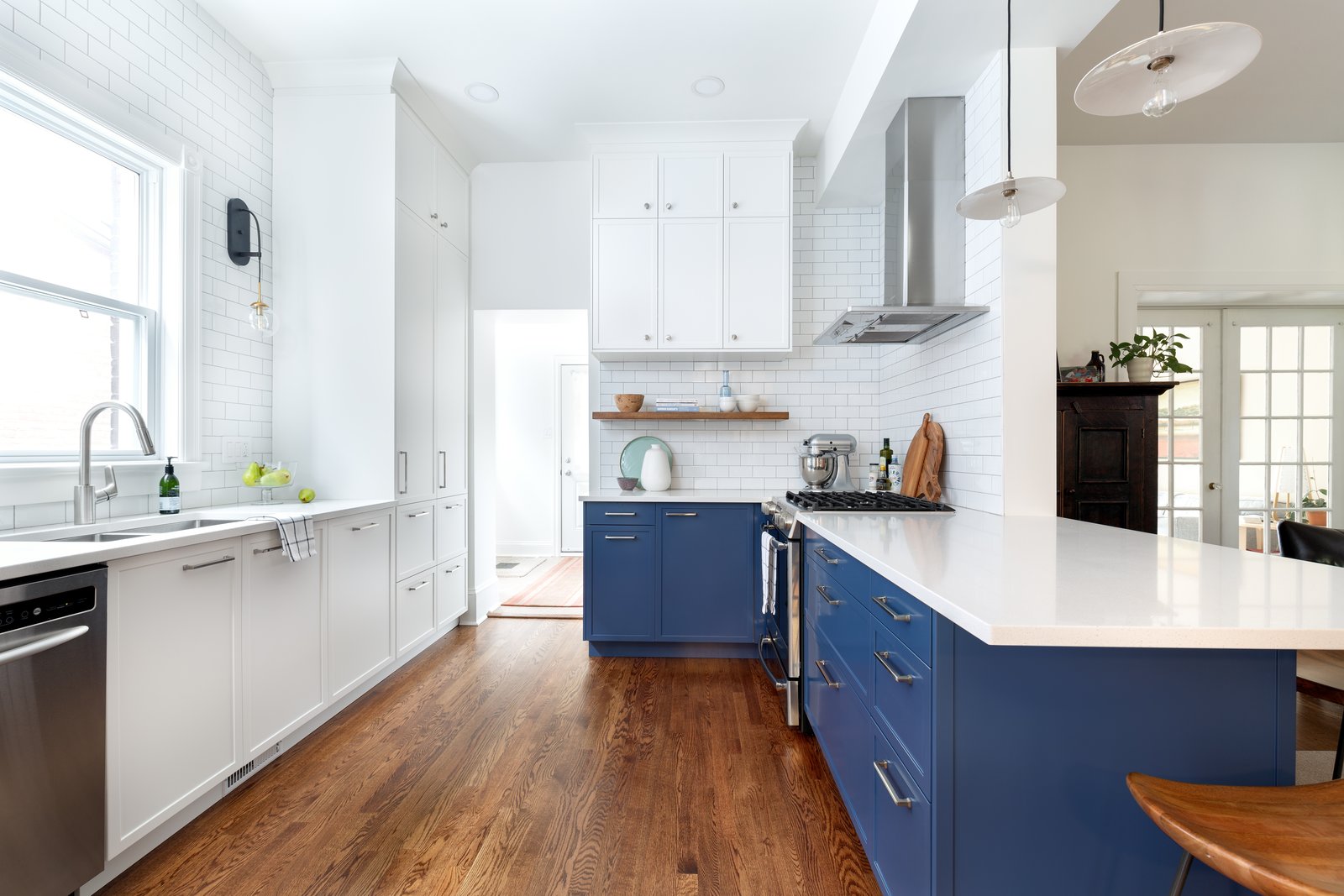 4 Ways to Revamp Your Kitchen Cabinets For Any Budget
Whether you're starting with IKEA cabinets or something else, there are a number of ways to update your kitchen, no matter the budget.
The kitchen is one of the most frequently renovated rooms in the house—but it's also one of the most expensive, due to costly components like countertops, backsplashes, appliances, and cabinetry. If you're looking to refresh your kitchen without going all-out, or if you're on a tight budget and can't afford custom cabinets, there are a range of solutions available at just about every price point—from DIY painting to brand new cabinets with high-end finishes. Read on for a look at the different options!
DIY Repainting, Staining, or Refinishing
Few things can change the look of a kitchen as quickly, efficiently, and inexpensively as giving your cabinets a few coats of paint, or a good restaining or refinishing. These treatments can have a profound effect on a kitchen, where millwork typically takes up the majority of wall space. However, the exact treatment and method of sanding, staining, repainting, or refinishing will depend on the existing finish of your cabinets—whether they're laminate, wood, or veneer—so take that into consideration!
Restaining or repainting cabinets will likely only run you a few hundred dollars, depending on the size and quantity of cabinets, with most of the budget put towards paint and primer or stain and sandpaper. While this is one of the least expensive options for high-impact results, beware: Skimping on paint and tools is not a good idea! What you'll save in cost you will end up paying for in terms of execution and durability; you'll find that cheaper paints will scratch and chip faster, and using poor-quality brushes and other tools will leave you with brush bristles and streaky results all over the new finish.
Note that some paint companies are even starting to make paint specifically designed for repainting cabinets and furniture (like Benjamin Moore's Advance), and while it's pricier than normal paint, it's definitely worth it for the quality.
It's also important to know that the prep work that goes into painting kitchen cabinets isn't for everyone; it's time-consuming and can be slow going. It takes multiple steps to get a finished product that looks good, including removing door hardware, cleaning, sanding, priming, painting, and reinstalling, so patience is a must. What's more, the finish may only last a few years if you cook a lot—but the good news is that you already know how to apply the next coat for a refresh!
New Knobs and Hardware
A more subtle way to update your kitchen cabinets is to swap out door hardware. Small details like door knobs, hinges, and pull tabs can have a big impact on the overall aesthetics of a kitchen. If you're not much of painter, looking for a quick and easy solution, or have cabinets that you like but hardware that you're not a fan of, this is a great option.

Pricewise, new knobs and hardware can vary tremendously depending on material, size, and a host of other factors. The number of cabinets in your kitchen will, of course, also affect the budget. Typically, simple door knobs start at around $3 to $5 a piece (think a mushroom-shaped knob made out of wood), and surface-mounted hinges start at about $3 to $5 a pair at big box hardware stores. However, hardware can run as high as $50 a knob and $15 or more for a pair of hinges, so a quick swap could easily cost several hundred dollars or more.
Professional Repainting
If you're looking for a dramatic change without the elbow grease and hassle of doing it yourself, it's also possible to get cabinets professionally painted, depending on their original finish. Professional painters will often remove cabinet doors for painting in their own facilities to achieve the smoothest finish possible in a space without dust or other airborne particles that might get stuck in the paint.
Professional painters will typically use self-leveling paint so that the surface is even. You'll find that the cost for doing this can be upwards of $1,000, depending on the size of your kitchen, the location of your home, and other factors. The benefits are that you don't have to do the work yourself, and the finish will be of a higher quality than what you are able to achieve at home due to craftsmanship, the environment, and access to professional-grade products.
Shop the Look
If you're looking for a super durable finish, you might even consider going to a local auto repair shop that paints cars. Many of these establishments are open to painting items other than cars, and they can produce a very smooth, sleek finish that's very durable. However, the finish will likely be shiny and glossy, which isn't right for everyone—and not all car paints are appropriate for interior use due to potential off-gassing.
New Cabinet Doors
The most expensive option for refreshing your kitchen cabinets is, of course, to completely replace them. Depending on who manufactured your cabinets originally, you may be able to select new cabinet fronts from a design-forward company like Reform. The Copenhagen-based company pairs with design firms like Norm, BIG, Lendager Group, and Dinesen to create IKEA-compatible cabinet fronts and countertops. Their designs are elegant, simple, and usually more durable than the typical IKEA products, and they run from $100 to $300 per cabinet front (drawer fronts are typically less expensive because of their smaller size).
Another IKEA-compatible cabinet front company is Semihandmade, which offers America-made cabinet fronts in a range of modern and traditional styles. They usually run $100 and up per cabinet front.
If your cabinets aren't from IKEA, fear not—there are still modern cabinet door options out there for you! Sherr's makes ready-to-assemble cabinets as well as individual cabinet doors in a variety of styles and finishes. Their Shaker-style fronts are clean, simple, and modern, and pricing is reasonable—although you'll need to request a personalized quote through their website.
The Swedish Door Company, based in Canada, also offers kitchen cabinet fronts in a range of styles for both IKEA and non-IKEA kitchens. Pricing for a 15" x 30" Thermofoil cabinet front runs about $50, while their HDF Lacquered Shaker (their most popular option) and flat slab doors run about $65 to $80 each.
Finally, Custom Cabinet Warehouse offers maple, oak, and MDF door fronts in custom sizes through Amazon starting at around $80.
Related Reading:
The Pros and Cons of White Kitchen Cabinets
Fill up on the Latest in Kitchen Design
Discover inspired kitchens and get design advice for the heart of your home.