Before & After: Bold Wallpaper Brings Dreamy Vibes to a Dated Airstream
Beautifully executed finishes and varied textures turn a tired 1960s Airstream into a vibrant home—lovingly nicknamed Marjorie.
When Bonnie Christine and her husband, David, decided to take their two young kids on a long cross-country road trip, they began hunting for a pre-owned Airstream they could renovate and make their own.
Having spent nearly a decade casually leafing through the classifieds for a trailer, the couple developed a keen eye that quickly led them to the perfect purchase—a 1962 Airstream Overlander for $18,000.
Newsletter
Join the Renovations Mailing List
Get carefully curated content filled with inspiring homes from around the world, innovative new products, and the best in modern design
"We weren't quite up for a full renovation," explains Bonnie of why she and David were drawn to the 150-square-foot trailer. "The previous owner had down a complete shell-off restoration, so we knew it had great bones. She was the perfect blank slate!"
She adds, "We scooped her up, and while looking through the original paperwork, found that a 'Miss Marjorie' was the original owner and had bought her in 1962. So in honor of her beginnings, we decided to name her Marjorie."
Before:
As an artist and surface pattern designer, Bonnie was in her element crafting Marjorie into a chic, dreamy home.
After:
From the reupholstered green velvet couch to variated penny tile, the diverse finishes and textures breathe new life and charm into the Airstream. Yet perhaps the most stunning addition of all is the William Morris "Pimpernell" wallpaper.
"As a surface pattern designer, I wanted to give a nod to the father of surface design himself by using a William Morris wallpaper," Bonnie says. "I find it endlessly inspiring! It was the first thing I decided to use in the design, and what the rest of the design decisions were based from."
Shop the Look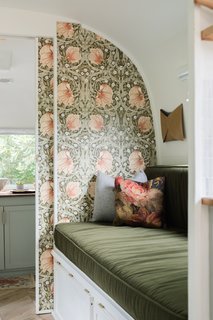 The couple spent a total of four months working on Airstream and finished the morning before they took off for their month-long, 8,000-mile cross-country road trip with their two kids, Bear (4) and Ollie (2).
Having returned from a successful adventure out west, Marjorie is now parked at Bonnie and David's house in North Carolina.
"She lives at our house and serves as an excellent additional office space for my husband and I when we need a quiet moment," Bonnie explains. "We've also got several trips planned over the next year. We can't wait to do more traveling!"