View Photos
Before & After: A Mullet Renovation Fills a Portland "Super Bungalow" With Daylight
A remodel brings additional light into a 1907 craftsman by introducing a "glassy chunk of architecture."
Located on a prominent, oversized lot in Southeast Portland, Oregon, this 5,000-square-foot, four-story "super bungalow" features a traditional Craftsman facade with cross-gabled bays, a covered porch, shake siding, exposed roof beams, and broad, open eaves. However, at the rear of the home, a cube-shaped renovation breaks the traditional mold.
The homeowners, Arrow and Jessica Kruse, lived in Los Angeles before they purchased this expansive home at the base of Mt. Tabor. Arrow had grown up in Portland, but after living in LA, the family craved sunshine—which can feel like a precious, rare commodity for half of the year in the Pacific Northwest.
The remodel—which focused primarily on bringing more light into the home—was expertly executed by the Portland–based firm Beebe Skidmore. "The house was a really nice, big house," says Heidi Beebe, the firm's co-founder. "They bought it because they liked it, and the change was just to make it lighter."
"In fact, we only changed 10 percent of the facade," she explains. The design, according to the architects, "leaves all of the distinguishing features of the original house in place, and replaces one of the original cross-gabled bays with a contemporary, glassy, operable, three-story chunk of architecture." The intervention floods the home with daylight, creates an indoor/outdoor connection on each level, and delivers a major spatial transformation that benefits and brightens every room in the house.
Before: The Rear Facade
Newsletter
Join the Renovations Newsletter
Get carefully curated content filled with inspiring homes from around the world, innovative new products, and the best in modern design
After: The Rear Facade
Before: The Kitchen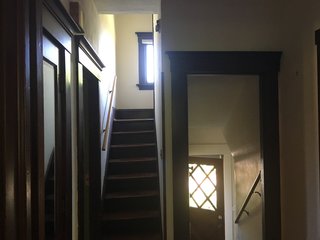 After: The Kitchen
Before: The Great Room
After: The Great Room
Before: The Porch

After: The Porch