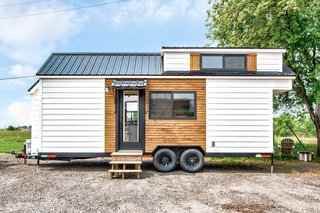 View Photos
This Pennsylvania Builder Ups the Design Ante With Tiny Homes Starting at $45K
Liberation Tiny Homes, a Pennsylvania company, is changing the way we see compact dwellings on wheels—one artful design at a time.
Marcus, James and Rosemary Stoltzfus, the owners of Liberation Tiny Homes in Leola, Pennsylvania, want to facilitate freedom. And they're doing just that by designing and building a selection of four customizable compact dwellings on wheels that can be situated almost anywhere. "We named our company 'Liberation' because that's the feeling you get when you shed debt, live with less, and have the ability to move where you want to," Marcus says.
It was important to the family members—Marcus and James are cousins, and James and Rosemary are married—that their tiny home designs be as well-appointed as they are affordable. "We believe in quality materials and building practices, and we wanted to create luxurious tiny houses that have everything you'd want, but in a smaller space," Marcus explains. As it turns out, Lancaster County, home to Leola, is the ideal place to access quality materials and building practices. "It's a huge hub for construction so you can get quality materials at affordable prices." Marcus says. "And most of our team is ex-Amish—we're very inspired by the Amish work ethic."
The company's focus on quality is apparent in all four of the tiny home design options they offer. "We've a little something for everyone," Marcus says. There's a 24-by-eight-and-a-half-square-foot entry-level home called Rumspringa that starts at $45,000 and can come in either a modern or traditional design aesthetic. From there, the models size up and can include optional features like soaking tubs, composting or incinerating toilets, and stairs with built-in storage.
The Gooseneck is the company's high-end tiny home as it offers more space and displays notably elegant details and colors. "The Gooseneck is typically built for a client who wants a larger, more luxurious home," Marcus explains. It tops out at 40-by-eight-and-a-half square feet and after all of the custom options, it can cost as much as $100,000. The Gooseneck includes a deck that's placed over the tongue of the trailer, creating attached outdoor space. "This model allows for a unique bedroom or living area," Marcus says. "The various rooms feel more separated and less condensed."

The company offers two additional models called the Farmhouse and the Modern. "The Farmhouse includes shiplap, barn wood throughout and a sliding barn door," Marcus says. "The Modern is a sleek tiny home with modernist fixtures and a shed-style roof; it's designed for those who are minimalists at heart."