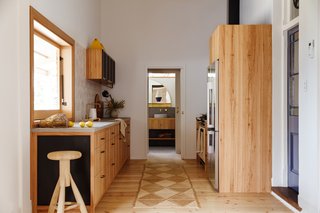 A Crafty Remodel Recasts a Dreary Kitchen as an Inviting Jewel Box
A revised layout, smart sight lines, and an earthy palette turn the back of this Australian home into a relaxing hangout spot.
Paul and Mark purchased a 1910 sandstone Victorian villa in the Adelaide suburb of Largs Bay—however after living in it for a while, they noticed a few things about the kitchen and dining room at the back of the house. "Other than going to the refrigerator or cooking dinner, we rarely used the space or sat at the dining table," they say. "The whole space felt dark and uncomfortable."
The rooms had a poor layout, fussy finishes, and crowded windows—so the couple embarked on a remodel with Adelaide-based Fabrikate to turn the space into a place where they could happily linger.
Before:
The homeowners did not want to change the existing footprint of the space, which measured about 516 square feet and included a dining area, kitchen, and bathroom. Working from the same footprint would allow them to maintain the scale found in the rest of the 1910 house and preserve the flooring.
"The preservation of the architectural shape and original footprint and flooring was key for us to maintain the space's story and connection with the rest of the house," say the owners.

Fabrikate started by borrowing space from the bathroom—decreasing its size provided room to expand and better organize the kitchen. They were able to fit an intermediary pantry space between the kitchen and the bathroom door, while also reducing the number of tall and upper cabinets. This layout fostered a lighter and airier feel throughout.
After:
In the dining area, a built-in bench provides storage space and a spot to sit while socializing with the cook—or looking out into the backyard. "We call it our 'nook,' and now we spend mornings there with our coffee while mentally preparing for the day ahead," say the owners. "With its outlook onto our backyard and the morning sky, it's a beautiful space. We often meditate in this nook and have wine (or whine) time there, depending on our mood!"

Fabrikate also widened the door to the backyard and added a server window over the sink, to bring in more natural light. In the bathroom, a ribbon window provides another glimpse of the outdoors. "The new slit window that was added across the top of the bathroom space is one of our favorite features," say the owners. "It frames the season, weather, and time of day, [conveying] changing colors and moods throughout."
Shop the Look
Get the Renovations Newsletter
From warehouse conversions to rehabbed midcentury gems, to expert advice and budget breakdowns, the renovation newsletter serves up the inspiration you need to tackle your next project.