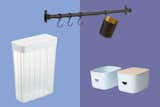 Achieve Organizational Nirvana With These Space-Saving Kitchen Accessories
We pulled together 22 containers and tools that will transform your pantry—and give you that "ahh" feeling.
Kitchen space is a precious commodity, but with the right organizational tools you can open up a world of possibilities. Our top picks will help you alphabetize your spices, clip your chip bags, and wrangle baking supplies with stackable storage containers. Your new kitchen (and a new you) starts here.
Fill up on the Latest in Kitchen Design
Discover inspired kitchens and get design advice for the heart of your home.