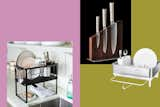 16 Kitchen Organizers That Will Instantly Free Up More Counter Space
These sleek storage options for drying dishes, cooking utensils, and pantry items like spice jars are immensely helpful when it comes to avoiding clutter.
It's all too easy to let cooking tools and accessories completely take over your kitchen countertops, especially if the room is short on cabinets and cupboards. The below organizers will help you keep the surfaces in your kitchen tidy, making it easier to cook and clean—or just unpack groceries and takeout orders.
Fill up on the Latest in Kitchen Design
Discover inspired kitchens and get design advice for the heart of your home.