Top 6 Backsplash Materials to Consider For Your Kitchen Renovation
Whether it's tile, glass, stone, metal, brick, or wood, there's a wide variety of functional backsplash options out there to choose from.
We've previously discussed common options for kitchen countertops, and even looked at some inspirational kitchen backsplashes, but before you embark on a kitchen project, it's good to know what your options are in terms of backsplash materials.
Backsplashes might, at a functional level, protect your walls from splashes and spills, but the best kitchen backsplashes are also a critical aesthetic element to any design. Here, we take a look at six of the most common backsplash materials, and when and where they're best suited.
1. Ceramic and Porcelain Tile
Newsletter
Join the Daily Dose Mailing List
Get carefully curated content filled with inspiring homes from around the world, innovative new products, and the best in modern design
For decades now, tile has been the most common backsplash choice because of its versatility; variety of shapes, colors, and sizes; and range of price points. Ceramic, porcelain, and glass tile are all resistant to heat and moisture, and are easy to clean because of their glossy surfaces.
2. Glass Panels
Another common backsplash material with a more modern look is back-painted glass, wherein the glass has been coated on the side that is in contact with the wall. The resulting backsplash is streamlined, modern, and easy to clean—the lack of grout lines allows for a continuous surface, and reduces the possibility of anything getting stuck in the grout.
The reflective properties of glass also mean that light will bounce around the space more, making it a great option for kitchens that need a pop of color and an enhancement of natural light.
3. Natural Stone Slabs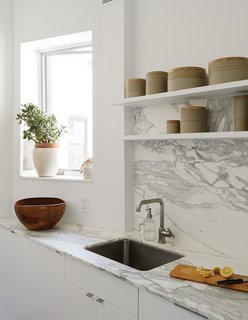 It's hard to beat the unique beauty of natural stone, which can be obtained in a range of prices and sizes, from small marble tiles to entire slabs of granite or marble.
You'll often see kitchens use the same material as the countertop on the backsplash; in the case of bookmatching, the veining and patterning in the slab is mirrored by the adjacent slab. Natural stone backsplashes create a dramatic, cohesive look in the space, and can also reduce grout lines for easy cleaning.
Shop the Look
4. Exposed Brick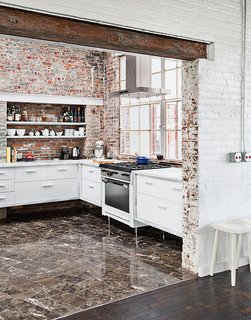 If you live in an older building, exposed brick or stone might be an option for your backsplash. Evocative, textured, and full of character, exposed brick can bring a touch of history and a rustic sensibility, but it doesn't come without care.
If you're considering exposing a brick or masonry wall in a place like the kitchen, you'll want to make sure it's carefully cleaned and sealed with a sealant designed for its location (whether it's a party wall between two adjacent buildings or an exterior wall). You'll also want to make sure that the brick itself is in good enough condition to be exposed.

5. Wood and Plywood
A backsplash in a kitchen might be one of the places where you'd least expect the material, but with careful planning and detailing, a wood or plywood backsplash can be a great addition to any kitchen.
You'll want to seal or treat the wood against water and other liquids, and you may want to use a different material in particular areas, like that behind the sink, where it's more likely for the wood to deteriorate.

6. Metal Panels and Tiles
Metal tiles and panels have been climbing the list of common backsplash options in recent years. Typically used in professional kitchens, stainless-steel backsplashes, in particular, have the ability to reflect light while still giving a sleek, smooth feel.
Consider pairing it with a stainless-steel countertop or a warmer, more natural stone countertop for a more residential vibe.