On Washington's lush Bainbridge Island, one community strives for quality of life as a sustainable initiative.
Who said making a better world would be easy? Just ask the cast of characters involved in Grow Community, a development on Washington's Bainbridge Island that was designed with the ambitious goal of encouraging social interaction while achieving net-zero energy status. Building for the future, they've learned, is a constant work in progress.
Newsletter
Join the Daily Dose Mailing List
Get carefully curated content filled with inspiring homes from around the world, innovative new products, and the best in modern design
A three-stage project on the former site of Navy housing, Grow was initially conceived by a small group as a way to responsibly increase density while utilizing prefab construction. In the years since its inception, Grow has weathered a number of controversies, including a revolving door of architects, construction delays, and a scaling back of its prefab plan—all on an island known for a staunch resistance to development. Still, the initial passion that drove the project resonates within the community, despite the many challenges.
At the end of a typical day at The Village, Grow's first phase, neighbors greet one another as they wend their way through shared garden paths, and children pedal bicycles through a series of "micro-hoods" made up of detached houses and town homes.
"This project looks to community as something we've lost," says Jonathan Davis, architect of The Village. "It tries to create that in a modern way, with sustainability incorporated." Though replaced as architect for the next two phases, Davis lives at Grow, in a two-bedroom house of his own design.
A decade ago, the site held a few ramshackle houses. A small group of investors acquired the parcel and worked with local developer Asani to turn it into a model energy-efficient neighborhood, with density zoning 1.5 times that previously allowed, thanks to a pilot development program on the island. The project's second and third phases, The Grove and The Park, are now under construction. These take a different approach, with condominiums and town houses neatly arranged around two central squares—unlike Davis's plan, which features a variety of housing types scattered in close proximity. Cutler Anderson Architects consulted on the master plans for phases two and three, and a third firm, Hartman Architecture + Design, contributed designs for a community center and an apartment building. The entire development is projected to be completed by late 2017.
Many involved in Grow give credit for its core values to Marja Preston, who led the development team and spurred the founding philosophy by posing questions as elemental as: "What would make this a place where you'd want to raise your family?" Preston lives in The Village, though she, too, is no longer affiliated with the development team. As she recalls, all involved knew they were facing great hurdles from day one. "We thought it would be really cool if we could design a net-zero house," she says. "But we didn't think we could at this market price. We didn't want to build $900,000 homes."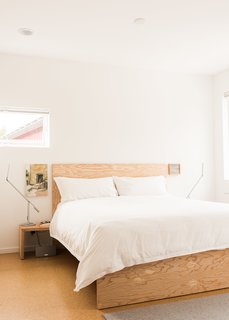 Early public meetings confirmed that although people wanted to buy green, the prospect sounded expensive. It was up to the developer, Asani, to prove otherwise. "We convinced people that you can have a happier, healthier lifestyle in this community for less than if you buy a house up the street," Preston says. The concept of a net-zero neighborhood struck a chord, and phase one houses sold out well before completion.
Davis, who created the pieceHomes modular concept in 2007, was brought on to realize the plan for The Village using the One Planet Living initiative—an international framework with 10 core principles, including efficient use of water, energy, and sustainable materials; reduction of waste; protection of wildlife; and support for local economies. A total of 43 units were built in the first phase: 23 single-family homes and two apartment buildings with 10 small rentals apiece. Sale prices ranged from about $300,000 to $500,000, with the added bonus of deep discounts on utilities as a result of tax rebates and solar energy savings.
Davis's initial concept called for modular houses but, as is often the case, things didn't work out quite as planned. Asani intervened, believing that it could build quicker and less expensively on-site using its own contractor, PHC. In the end, panelized walls and roof trusses fabricated off-site by Kingston Lumber were used in conjunction with conventional onsite techniques.
One area in which the development's original plan prevailed is the integration of sustainable energy systems. Every house in The Village is topped with photovoltaic panels (supplied by Washington-based Itek Energy, a company owned by a Grow investor), which are financed through a local credit union at zero percent down, with state and federal incentives paying the loan fees. "Everything about the houses is designed so we use only as much energy as we can produce," Preston says.
In fact, houses in The Village have proven even more efficient than imagined. "We're net-positive," Davis says of his family's home. "We didn't pay an energy bill from May 2013 through January 2016. The meters run backward, so you can bank your excess."
This careful use of energy and incentives, along with the modest scale of the houses, was part of an effort to keep housing and utility costs affordable in order to attract a diverse group of residents to an area so tightly knit a Grow resident jokingly called it "incestuous."
Despite the difficulties along the way, residents interviewed for this story continue to embrace Grow's original intent. "I haven't found a single person who went through what we called the 'Grow shuffle' who regrets sticking it out and staying," one homeowner says.
The Village's design team also stands behind Grow's grounding philosophy—especially after seeing it in action. "It's not just about making a green building, it's about trying to make a sustainable community that has a great impact on the island," Davis says. "People really have bought into that."