In Search of Alvin Lustig
Settling into a midcentury home in Los Angeles, a young couple celebrate its provenance: quite possibly a rare residential project by the legendary graphic designer.
"We could have imagined ourselves in a Craftsman bungalow," recalls Andrew Romano. When he and his wife, Dustin Ferrer, first moved from New York to Los Angeles, their requirements were emblematic of the transition: a yard for their future kids, an escape from cold and damp winters, good tacos. Both writers, they also sought a home that was quiet. The style of architecture didn't immediately enter the picture.
Newsletter
Join the Daily Dose Mailing List
Get carefully curated content filled with inspiring homes from around the world, innovative new products, and the best in modern design
That changed when they began touring the small, early modern houses of Silver Lake and Los Feliz. First seduced by the designs of Rudolf Schindler, Andrew soon started sifting through the rich variety of 1930s and 1940s homes scattered across central Los Angeles. His initiation into the world of residential architecture was stimulating, he says: "Interacting with the individual design sense of an architect—the extra layer of connection to the space you're living in—I had never felt that before."
One house, near the Silver Lake reservoir, captured both their imaginations. "I was drawn to it immediately," says Dustin, who is originally from Los Angeles. "Most of the windows look out onto outdoor space. When you're in the living room, you're getting light from all sides." The house, situated on a steeply sloped ridge, has a compact, low-slung appearance from the street that belies its permeability between interior and exterior. Northern exposure sends filtered daylight through the house and illuminates the view over Glendale and a recess of the Los Angeles River. "You're bathed in light, and none of it is direct," says Andrew.
The property wasn't yet publicly on the market, but as Andrew began to converse with the owner, Andy Hackman, he developed a fascination with its story. Hackman, who bought the house in 1993, had assembled a patchwork of clues about its origins. He told Andrew about how he'd tracked down the city's construction records, which showed that William H. Thomas, a majority owner and sometime executive and chief engineer at audio electronics company JBL, had built the house in 1947. But there were no original drawings or plans. Later, while working on the renovation of the Beverly Carlton (now the Avalon Hotel), Hackman, an outdoor furniture dealer, found a photograph of the hotel's original facade and was surprised to see it had been covered in tiles decorated with a repeating asterisk motif. He recognized the distinctive tiles . . . because his own bathroom was lined with them.
Famously, the original design for the Beverly Carlton was among the few established works of commercial architecture designed partly by Alvin Lustig, one of the most eminent graphic designers of the 20th century, best known for his book jackets for the publisher New Directions. In the mid-aughts, Hackman contacted Elaine Lustig Cohen, the designer's widow, who confirmed that Lustig was indeed the author of the tiles. It turned out Lustig was Thomas's design collaborator, working on projects ranging from JBL brochures to a scheme for a commuter helicopter.
Andrew and Dustin were increasingly intrigued by the house's provenance, but when they first saw it, in 2012, it was a bit overgrown. "I remember other people seeing the photos and being like, hmm . . . ," Andrew recalls. "But Dustin and I immediately saw it for what it was." At the time, the trellis was showing rot and the canvas netting on the front balustrade was frayed and torn. And yet, its age—its place in history—was part of the appeal, and in 2013, they bought it. "We didn't want perfect, we didn't want sparkling. We didn't want a brand new house," he says. What they did want was a house that was "true to the original intent—true to the design, the feel of it," he explains.
But without blueprints, how could they know the original intent? Untangling the backstory of the house became, for Andrew, a kind of rebus for the approach to restoration. A journalist at Newsweek for many years, he felt his professional instincts coming to bear on his new project: "This scratches a familiar itch, of digging to get to the heart of something—trying to solve a mystery, trying to piece the story together."
As he and Dustin continued along Hackman's research trail, similarities between established Lustig designs and the house continued to accumulate: the built-in magazine rack of a partition wall, the pulls in the cabinetry in the kitchen. In the midst of these details, a friend came upon an especially telling one—an advertisement for a residence in the November 1958 issue of Arts & Architecture magazine, with bold letters declaring: "Designed by Alvin Lustig." The description matched perfectly.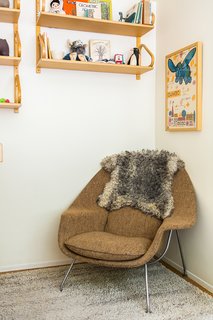 As the couple became more sensitive to the interconnected design world of Lustig and his contemporaries, their net began to widen. "Lustig was a teacher, he was a designer. He knew everyone," says Andrew. "And when you start looking at the connections, he's right in the middle of everything. He was one of the first to talk about total design, that there was no separation between the type of designer that you might be and the work you would produce. It's just about doing good work in whatever medium."
As they settled into the home, Dustin and Andrew referenced specific detailing from other documented interior designs by Lustig, such as displaying a piece of his Incantation fabric for Laverne Originals in their bedroom. They also focused on designs that resonated with the ideals of West Coast modernism, outfitting the interiors with a host of period-specific furnishings: Kurt Versen lamps, Abel Sorenson chairs, an Elizabeth McCord oil painting. They sourced Van Keppel-Green pieces—the ubiquitous patio chairs seen in Arts & Architecture throughout the period—that now dot the property. Color choices were based on the work of Schindler, Richard Neutra, and Lustig's contemporaries and associates in 1940s Los Angeles.
And the young couple already had objects from Architectural Pottery, the iconic ceramics producer that became a signpost for modern sensibility in the 1950s; only later did they realize that the grandfather of one of Dustin's childhood friends had founded the company. Eventually, Andrew discovered another link to Lustig here as well, unearthing a photograph of an early Architectural Pottery prototype on which the designer had painted one of his signature glyphs.
The couple's collection befits the structure, which was built just after World War II and was conceived within the parameters of wartime rationing, as evidenced by the short floorboards and the relatively modest footprint. "It's not showy," Andrew says. "It's supposed to work nicely—completely sufficient and very graceful. It's not a grand architectural statement, but something that works in an everyday sense. It comes out of that period, both in terms of its limitations and aspirations." Still, the contrast with life in New York could not be starker. "It took a while for it not to feel like a vacation rental," says Dustin. "After a third-floor Brooklyn walk-up, it's really nice waking up naturally with the sunrise."
Today, living in the house with their 19-month-old daughter, Elliot, and newborn son, Graham, they've grown into the particularities of its dimensions and added their own interpretations to Lustig's design solutions. The humanistic, homegrown modernism that the legendary designer helped develop in midcentury Los Angeles has become an inseparable part of what they call home. As Andrew says: "He was part of that world, and now we're part of that world."