Before & After: A 1980s Farmhouse Gets a Light, Airy Revamp With Touches of Walnut
The daily rituals and routines of an empty nest couple were the starting point for the redesign of the "House for Grandparents."
The owners of this 1980s farmhouse in San Miguel, California, are an elderly couple with children and grandchildren who visit often—so they decided to reorganize the floor plan to make it better for communal gatherings. New York–based architecture practice Dash Marshall helped the couple achieve their goals by renovating the 4,650-square-foot home with a bright, fresh, and modern interior.
The architectural language of the renovated house pays homage to the Spanish missions of California, the vernacular metalwork of Central Coast farms, and Alvar Aalto's use of warm wood—in this case, a mixture of fir, white oak, and walnut that adds richness to reductive forms.
Before: The Living Room
Newsletter
Join the Renovations Mailing List
Get carefully curated content filled with inspiring homes from around the world, innovative new products, and the best in modern design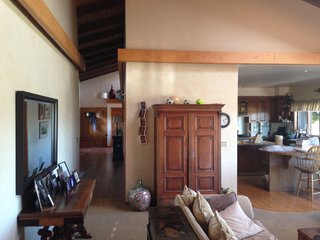 After: The Living Room
"We started with the rituals. Arriving, cooking, eating, lounging, celebrating, bathing, sleeping. After analyzing each, and discussing with the owners, we designed specific responses," says Bryan Boyer, one of Dash Marshall's founders.
Before: The Dining Room
After: The Dining Room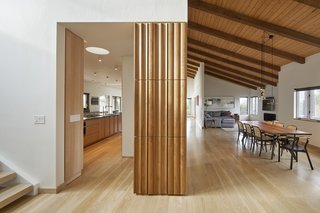 "Being invited to gut renovate a family home that has been occupied for 30+ years is no small thing, so we approached the project cautiously to make sure we honored the family's relationship to this place," says Boyer.
Before: The Kitchen
After: The Kitchen
"We thought remaking the house in walnut would devalue the material, and by extension the memories. Instead we developed a palette of three woods that are used throughout the house: white oak floors, Douglas fir millwork, and walnut that shows up in just a few spots, so when you encounter walnut millwork or detailing, you really notice it," says Boyer.
Before: The Stairs
After: The Stairs
A big part of the home's history is tied to a 120-acre walnut orchard that the family kept for commercial farming until just about the time this project was completed. The couple knew they were going to retire from walnut farming, but they wanted to find a way to integrate walnut into the project.

After: The Entryway

Instead of using walnut wood as the dominant material, Dash Marshall felt they could honor the memory of walnut farming better by using it sparingly.
Shop the Look
After: The Bedroom

After: The Guest Bathroom
After: The Master Bathroom

After: The Exterior