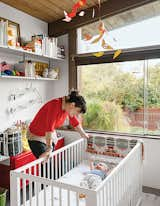 51 Helpful Gifts for Rockstar New Parents
Ease their transition into parenthood with these sweet gifts.
In lieu of a casserole, we propose gifting these colorful toys, soothing balms, and adorable accessories to your family, friends, and acquaintances who are totally ready to rock parenthood—but could maybe use a little help.
We love the products we feature and hope you do, too. If you buy something through a link on the site, we may earn an affiliate commission.
Get the Shop Newsletter
Smart shopping for the design obsessed. Find what you love in our expertly curated selection of finely crafted home, office, travel, and lifestyle products.