Get a Grip: A Practical Guide to Cabinet Hardware
From handles and hinges to latches and catches, here's what you need to know about the different kinds of cabinet hardware on the market.
They say that design is in the details, and when it comes to the hardware on drawers, cabinets, and other storage millwork, we'd have to agree. You may have noticed how swapping out the knobs on a piece of furniture gives it a whole new look, or how using a specific type of hinge on a cabinet door can transform a kitchen. It can be hard to get a handle on the different options for cabinet hardware out there—especially when some are hidden—so read on as we demystify the different types of cabinet hardware for kitchens, bathrooms, and other areas of the home.
Part I: Handles
Newsletter
Join the Kitchen Mailing List
Get carefully curated content filled with inspiring homes from around the world, innovative new products, and the best in modern design
There are just as many types of cabinet handles out there as there are types of cabinets, but the most common ones you'll see are knobs, pulls, cut-outs, and "invisible" spring hardware.
Knobs
Knobs, which are attached with a single screw, are most frequently used on cabinets, and are available with a built-in screw, known as a one-piece knob, or with a separate top and fastener, known as a two-piece design. Knobs are made in a variety of materials including brass, zinc, stainless steel (sometimes found in kitchens), bronze, glass, crystal, plastic, wood, and other natural and man-made materials. They also come in a range of shapes and sizes, but are often designed for comfort and ergonomics, so there are rarely sharp edges that could potentially hurt someone pulling on it.
Pulls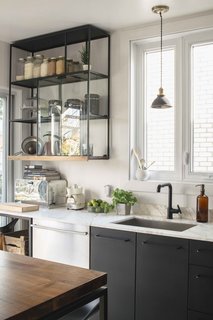 Another type of door hardware for opening cabinets are pulls or handles, which are attached to cabinet door fronts with two or more screws. You may have had experiences where you were trying to swap out old cabinet pulls for new ones, only to realize that the pulls had two screws that were a different distance apart from the new ones that you purchased. Don't worry—you're not alone! This happens often because the distance between two screws varies depending on pull type, manufacturer, and other factors.
Some pulls and handles are specifically made for appliances like refrigerators, dishwashers, and other appliances where you might have panels installed on the front of the item to match the surrounding cabinetry. Typically, appliance handles and pulls have been designed to higher standards than traditional cabinet pulls because they need to withstand more wear and tear—your fridge door has suction that resists opening, and you probably open the fridge more times than most of the cabinets in your kitchen. As a result, many appliance handles and pulls are larger, wider, or thicker than similar cabinet hardware.
Cup Pulls
One popular subset of cabinet pulls are cup pulls, sometimes also known as bin pulls or half-moon pulls because of their half-circle form. Rather than wrap your fingers around a bar, as is the case with most pulls, users slip their fingers in the underside of a cup handle, pulling towards themselves. This means that the cup pull is installed using a specific mounting method, and they can only be installed in one direction—you wouldn't want to install a cup pull on a base cabinet with the open side of the pull facing upwards.
Spring Mechanisms
You may also have seen cabinets that are so minimalist that they have no knobs or pulls whatsoever—and they look like they're impossible to open! The trick is, in fact, a mechanism with a spring located on the inside of the cabinet. When you push on the corner of a cabinet, you compress and then release the spring, which in turn pops the cabinet open. In order to close the cabinet, you simply push it closed until you hear the little "click" that means the spring is back in its locked position.
Cut-Outs
Finally, another popular way of opening cabinets without the use of traditional pulls or knobs is through cut-outs in the cabinetry. These are frequently found on custom cabinets where a minimalist look is desired, or where the budget is tight and saving on hardware is desirable. Cut-outs can come in a range of shapes, and are often designed to facilitate ease of opening.
Part II: Hinges
Hinges are a critical part to any cabinet, and are also quite complex; there are about a dozen (if not more) different types of hinges, depending on whether you have face-frame cabinets or frameless cabinets. Face-frame cabinets include a frame made of 1-½" to 2" wide solid wood that attaches to the front edges of the cabinets. This type of cabinet construction is common in American-made cabinets, and hinges will then mount directly to this frame. However, if you have frameless cabinets—which are typically made in Europe, like IKEA cabinets—your cabinets are basically just a four-sided box with no frame around the front edges. In this case, the hinges will mount directly to the interior of the cabinet.

Based on this, you can then figure out the relationship between your cabinet doors and the frame or exposed edge of the cabinet—do the doors cover part of the frame or edge, or are they inset so that you can see that frame? Depending on whether it's a single cabinet door or a double cabinet door, the frame or edge might be covered by one or two cabinet doors.
You'll also want to think about how visible your hinges will be—do you want them to be a major design feature and mounted directly to both the outside of the frame and the outside of the cabinet, known as a surface-mounted hinge? Or take a more minimalist design approach and have them virtually invisible from the outside when the cabinets are closed, known as a concealed hinge? Are you worried about the noise of cabinet doors closing, and think that soft-closing hinges are important?

Part III: Tracks and Slides
Finally, one of the more technical parts of cabinet hardware are the ball-bearing slides or tracks and latches that are used to open and close drawers and cabinets. Sliding tracks are what allow drawers to open and close smoothly, and using drawer slides that have soft-close ball bearings allow them to close slowly so that they don't make much noise or rattle everything inside. Drawer slides are available in side-mount, center-mount, and undermount versions, depending on the amount of space you have between the drawer and the cabinet opening.
Part IV: Latches and Catches
Latches for cabinets aren't quite as common as they were about a 100 years ago because of improved hinge technology, but you can still find a variety of latches and catches for keeping cabinets closed. A latch is mounted to the outside of a cabinet, and typically features two pieces: a mechanism with a turn or a lever on one side that controls the "tongue" of the latch, and a "shell" with a cavity to house the tongue on the other side. On the other hand, cabinet catches are usually installed on the inside of a cabinet, making them invisible from the exterior, and can consist of a magnet, a clip, or a ball that holds the door closed unless a certain amount of force is applied to open it.