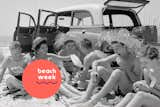 Getting to the Beach Is Half the Fun
The journey might not be as good as the destination. But as these beach lovers can tell you, it's not all bad.
Welcome to Beach Week, a celebration of the best place on earth.
If going to the beach is the cream of the crop of summer experiences, the going part is usually seen as the slog before the bliss. After the tension of corralling the friends, kids, pets, snacks, and essentials, avoiding the traffic, finding a good parking spot, and beating the crowds, there's always that big payoff: relaxing by the water, soaking your feet in the waves, and sitting in the sand. The decision to commit to the travel usually feels like the labor before the good thing, but though the journey might not be as good as the destination, it's not always half bad either. Whether it's taking a detour to grab a slice from an iconic pizzeria or stealing a golf cart in your mother-in-law's subdivision to get to the pool faster, that anticipation and all that comes with it is worth it.
Just as every beach is different, every trip to the beach is its own unique adventure. So we've asked a handful of known beach lovers to share their most treasured tips when going to their favorite spots. From a stacked day in Michigan's Keweenaw Peninsula, to chain ice cream on the West Coast, and an underrated lakefront Chicago gem, hopefully these stories will serve as inspiration for future summertime bliss at any point in the adventure.
"In Medina, if we race, there's an apple ice cream soft serve place"
I front an Austin-based band called Good Looks and in our song "First Crossing," I give some basic directions on how to get to our favorite swimming spot on the Medina River in the Texas Hill Country. You have to do some trespassing to get to it. But the payoff is worth it. It's a beautiful ice-cold, spring-fed spot that's 15 feet deep in an otherwise very shallow river and the banks are lined with gigantic bald cypress trees. Then afterward we all go to this place called The Apple Store (think fruit, not asshole computer companies) in Medina where they sell a multitude of apple-based desserts and more specifically, the best apple ice cream soft serve you're ever gonna find. If you don't love Texas after this day trip, there's no hope for you. — Tyler Jordan, frontman in Good Looks.
Always Take the Scenic Route
Getting to Crandon Park in Key Biscayne from mainland Miami requires a series of stops. First, you're choosing your favorite Cuban bakery and picking up as many Cuban pastries as you can put in a box. Then, you take the scenic route towards the long Biscayne bridge where you are welcomed by a large statue of a shark that's an advertisement for the Miami seaquarium (they've since replaced it with a much less menacing dolphin statue). When heading back to the mainland, you should stop by Sir Pizza. — Perez Ramirez
Behold, the Super Bodega
New York beaches are great, especially on the Riis-Rockaways because you can go by car (Riis) or no car (Rockaways) and have a great time either way. If you're driving to Riis—a great option if you're filling the car with pals, coolers and beach chairs—there's a gigantic parking lot waiting for you on the other side. (It costs $20 but it's worth it and you'll split it!) If there's traffic (and there 100 percent will be), you can stop at Knapp Street Deli for snacks on the way. It's probably the most stacked super bodega you'll find in NYC, complete with hot/cold bar and a deli counter perfect for packing beach sandwiches. Grab a coffee there or at the Dunkin across the street. — Lindsey Weber, co-host of Who? Weekly
If You Live Near Water, Take Advantage of the Neighborhood
I live about a mile away from my favorite beach, Pratt Beach in Chicago's Rogers Park. On beach days, I gather my drinks, my towel, my books, and other required gear. I then bike over to my favorite Mexican spot, Taquería El Charro on Clark Street. Pratt Beach is so special because many parts of it are left undeveloped and the beach creates a lot of space for the eclecticism that reflects the neighborhood. There is also one of the largest pieces of art in the city; a bench that stretches a half-mile long that is repainted each year by folks from the neighborhood. — Michael Huber-Hedstrom
Nothing Says Nostalgia Like Chain Ice Cream
The trip to Butterfly Beach from our house on the Riviera in 1970s Santa Barbara was a quick ride in my mom's black VW Bug packed with a restless crew of two kids and two dogs. We always parked in the shade under the big Eucalyptus tree where the Monarch butterflies were congregating. When we had too much sun we would head out for ice cream at Baskin Robbins on Coast Village Rd. — Gabrielle Dore
Semi-Legal Fireworks Will Provide a Spark
To get to Sac Bay in Michigan's Upper Peninsula from Chicago, you have to drive up through Wisconsin. With fireworks being legal in Wisconsin and illegal in Michigan, we would always stop at a shell gas station off I-94 that provided for all our needs—gas, pottery, Arbys, and, most importantly, the fireworks. One place to check out is Mickey-Lu-Bar-B-Q in Marinette, WI. It has an old diner feel that serves mini charbroiled burgers, brats, and chips. No fries. — Ben White
Have a Day in Michigan's Upper Peninsula
Start your morning bright and early in Houghton with a hearty Finnish breakfast at Suomi Restaurant—you have to try the Pannukakku (Finnish pancakes) or Nisu French Toast! After breakfast, head north on US 41 N toward Calumet, where you can caffeinate at Keweenaw Coffee Works. Then drive to Great Sand Bay. This place is a well-loved, big, sandy public beach that almost always has some great waves to swim in, or rock hunting for those less keen on a dip in Lake Superior. Once you've had enough swimming for one day, head even further north to Copper Harbor for a traditional(ish) German meal at the Harbor Haus. There's so much to explore in the Keweenaw Peninsula. — Madeline Rosemurgy
Don't Forget the Family Beach Chair
My grandmother lived her entire life in New Buffalo, MI. I'm the son of a single and very busy mother so I spent about a third of my time with my grandmother. We would wake up at 7 am and pack a cooler, make our lunches, grab the battery-powered radio and drive up to New Buffalo's public beach. Then we would just sit on that chair and hang out swimming and cracking jokes. After she passed away a couple of years ago, one of the only things I kept is her beach chair—I still keep it in my car. I bring it to the beach with me almost every week in the summer. — Justice Hill, musician
Top photo by Slim Aarons/Stringer/Getty.
Related Reading:
10 of Our Favorite Beach Homes You Can Book Right Now on Airbnb
Dwell Picks: What We're Bringing With Us to the Beach This Summer
Get the Dwell Newsletter
Be the first to see our latest home tours, design news, and more.