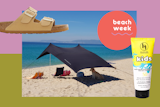 Dwell Picks: What We're Bringing With Us to the Beach This Summer
From our beach tote to yours.
Welcome to Beach Week, a celebration of the best place on earth.
As someone who grew up on the California coast, I firmly believe there's nothing quite like a day trip to the beach to get into summer mode. In honor of the time-honored tradition, I asked my fellow team Dwell-ers to share their most-loved products to bring seaside, from waterproof speakers to pop-up tents to sunscreen that won't break you out. If you're currently landlocked, don't fear: these picks are right at home for a trip to the lake or dip in your neighborhood pool.
Mike Chino, Senior Design Editor:
"Single-use plastic bags are awful for the environment, and there are some foods that Tupperware just can't contain without wasted space. This summer, I'm toting my beach snacks and sandos in W&P's Porter Bags, which are reusable, flexible, and dishwasher-safe. I'll never handwash a Ziploc again."
Kate Dries, Executive Editor:
"As a person with almost translucent skin, I won't go anywhere outside for an extended period of time without a nearly-full bottle of sunscreen (or a few half-full ones). Everyone has their favorites, but the one I return to again and again is Neutrogena Beach Defense Water + Sun—it smells like a tropical island, so even though I'm doing something required of me, it feels festive."
"For face, however, I turn to Supergoop—they have so many types of sunscreen, but I use the Zincscreen 100% mineral, which is great for sensitive or rosacea-prone skin. It has a light tint that probably does nothing but I like to pretend it does."
Sam Daly, Shop Editor:
"I've been eyeing Lena Corwin's adorable towels for some time now, and I love this cotton number she created in collaboration with Ozma of California this year. Perfect for lounging at the beach and post-shower coziness once the weather cools off."
Suzanne LaGasa, Creative Director:

"I'm forever grateful to the mom who stopped me in my tracks to tell me about Black Girl Sunscreen. Instead of leaving white residue, especially on darker skin tones, it creates a beautiful, glowing, satin sheen. No parabens, fragrance, oxybenzone, and octonoxate. It's not oily, thick, or smelly, and I'm sure it'd be good on everyone—even boys."
"This hooded beach towel is perfect for those last few hours at the beach when the sun is setting and the cool night air is creeping in but you don't want to leave yet. Allowing kiddos to change out of their bathing suits privately and warmly might get you another 30 minutes of beach time—and I'll take it! I'm also a sucker for a bright sunny yellow."
"The beach wagon to end all beach wagons. It was recommended to me as the ultimate, life-transforming wagon that makes it possible for single parents to hit the beach with multiple kids and all the toys, drinks and snacks a family could possibly want in a day at the beach. I found it well worth the investment. It folds up easily for storage, it has a great turn radius, it goes over sidewalk bumps well, it's easy pull on soft sand, and it's a delightful wagon ride for the kids when they're melting down."
Megan Reynolds, Guides Editor:
"This chair is unwieldy, which means I can't take it to the beach, but in an ideal world, I live somewhere close enough to the water that lugging this hideous but extremely comfortable lounge chair to the sand is worth the brief journey."
"I've cycled through what feels like an infinite amount of beach totes in search of The One, and finally, on a solo vacation to Miami earlier this year, I realized that the answer was staring me right in the face this whole time: a standard-sized Baggu reusable bag is the beach bag of my dreams. They're cheap, they're cute, they're useful for more than just schlepping water and three novels and a towel, and of all the things I do buy without thinking, they're actually useful. I love this madras print and have toyed with using it as my primary bag, but it lacks the internal organization I need for every day. However, that feature makes it the perfect black hole of a beach bag—seemingly able to fit everything you'd need and more."
Keren Dillard, Edit Fellow:
"I love this all-natural insect repellent because it actually works and it doesn't make you reek of eucalyptus. I also love that it is DEET-free, a non-aerosol, and great for sensitive skin."
"Although advertised for wall hanging, this tapestry is great for the beach because the silky material prevents sand from accumulating like it would on a towel or a blanket. It is also thin, so it dries quickly and is lightweight for packing."
"This tiny speaker packs a lot of punch! I use this portable waterproof speaker at the beach, in the shower, and anywhere else where water might be! The sound quality is amazing and when paired with another speaker, the Bose app allows pair them as left and right for surround sound."
"This inflatable chair is super fun and is a comfortable furniture option for any outdoor excursion! I have used it as both a chair and a backrest while lying down in the sand, and it's super easy to clean off, deflate, and pack for travel."
Erin V. Mahoney, Senior Marketing Manager:
"After a dip in the ocean, nothing beats returning to a plush beach towel warmed by the sun."
"Take the guesswork out of when to reapply with these UV detection stickers. They're a staple in my summer tote."
Alex Casto, Associate Visuals Editor:
"I absolutely love the flexibility and practicality of a neutral mesh tote. I always bring a variety of foodstuffs, beverages, and various small items to the beach, and this chic and affordable little friend has never failed me.
"I have several pairs of small black sunglasses in my collection, which have become my go-tos on most days. I will always refuse to let 90's sunglasses trends die!"
"Putting on a new pair of Birkenstocks always feels like a nostalgic trip down memory lane to my early childhood in Ohio. Everybody and their mother always had a pair, and as a result, I always do to this day."
"I cannot express enough my love for Aesop's products. For years, I've carried their balms in my purse, and they're the perfect remedy for dry skin after a day spent in the hot sun."
"My mom gifted me with this book after I took some time off to travel the U.S. during the pandemic. I still haven't been able to give it my full attention, but I know it will more than satisfy my wanderlust this summer, especially when read near the ocean."
Haley Heramb, Branded Content Manager:
"The BEST face sunscreen."
"I always bring some kind of reusable water cup to keeps things cold."
"Love this waterproof speaker for beach tunes."
Maris Newbury, Affiliate Account Manager:
"Comfortable, the perfect size, and such a work of art!"
"My farmers market bag doubles as my beach bag for my families weekly weekend trips to the sunny northern California beach in Bolinas."
"If it's going to be a long beach day (or park, for that matter) I always make sure to bring this tent. It takes a few seconds to set up and provides great sun protection. Super lightweight as well!"
Get the Dwell Newsletter
Be the first to see our latest home tours, design news, and more.