From the familiar log model to Swiss chalets and Swedish friggebods, cabins are the simplest of structures, made from local materials in forms that respond to climatic and cultural needs. However, these no-frills wilderness escapes no longer require giving up modern comforts and aesthetics. Today's cabins synthesize traditional typology with present-day design know-how and allow architectural explorations in a way traditional homes rarely do. Here we highlight five modern retreats that might give you cabin fever of a different sort.
Newsletter
Join the Daily Dose Mailing List
Get carefully curated content filled with inspiring homes from around the world, innovative new products, and the best in modern design
Cabins are an integral part of Canadian culture. Spending summers on a dock or in the woods is a rite of passage for our neighbors to the north, who even mark the return of warmer weather with an unofficial but widely celebrated weekend holiday (May Two-Four) to kick off cottage season.
On a four-acre site on Salt Spring Island, just southwest of Vancouver, Olson Sundberg Kundig Allen Architects crafted a cabin—modest in size yet bold in design—on the site where another cottage once stood. Inside the walls of rammed earth and steel, the 191-square-foot space is a cozy nook warmed by the caramel colors of the cedar on the floor and ceiling, which was milled from salvaged timbers, as well as the heat produced by the wood-burning stove. "The small size creates an intimate, protected refuge within a larger landscape," architect Tom Kundig says. "It forces you to engage with the bigger landscape yet still provides a sanctuary from the elements."
The cabin's owner lives in Seattle, but she remains true to her Canadian roots, spending every other weekend in the summer (and one weekend a month in the winter) at her cottage. The unfinished steel cladding that slides over the cabin's wall of windows like a shutter makes for easy openings and closings; each time a reason to head to the Beer Store for a 24-pack of Molson Canadian.
Wooden Cabin
For Group8 architects, designing the Wooden Cabin was a matter of achieving a balance between convention and innovation—resulting in a traditional Swiss chalet with a modern aesthetic. Principal architect François de Marignac kept the classic gabled roof, wide overhang, and open-plan interior while forgoing decorative exterior carpentry in favor of thick, flat walls to weather the heavy winter snows and year-round winds. Composed entirely of locally sourced larch, the honey-colored Wooden Cabin will in time turn gray, then black, blending in with the older constructions nestled nearby on the Alpine valley mountainside.
Georgian Bay Cottage
The Georgian Bay Cottage treads lightly on the land—as the natives whose reservation this cabin is built on once did. Because the lots are leased, architect Leo Mieles explains, "the approach is: 'Let's not clear the hell out of the land but instead quietly embed our cottage and enjoy the landscape.'" This attitude prompts residents to distill their desires to the basic elements needed to escape from the city and relax in nature. Here, the solution is a "long-shed" construction featuring a large sliding door and pull-down bug screen, a translucent corrugated-fiberglass roof, and exposed studs and ties.
Mini House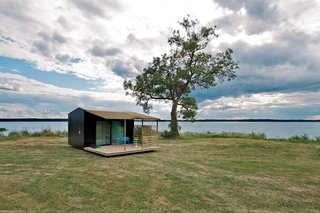 Prefabricated, flat-packed, and put together on-site with a little love and elbow grease, the Mini House is a modern Swedish shed (or friggebod) that reimagines architecture as product. Conceived by Jonas Wagell for his master's thesis at the Konstfack University College of Arts, Crafts, and Design in Stockholm, the small structure's simple, livable design lacks a kitchen or bath, although those—along with a sauna or solar-power system—can be added on as modular units.
Cabin Vardehaugen
At the mouth of a fjord on the Fosen peninsula in Norway, form followed function to a small rocky outcrop called Vardehaugen. There, Fantastic Norway Architects constructed Cabin Vardehaugen atop the exposed, wind-whipped hill. The holiday haven—shaped like "a mountain fox curled up to avoid the wind," says lead architect Håkon Matre Aasarød—took its structural cues from the environment. In addition, the careful composition had to respect both the unfettered panorama and strict local building regulations set in place to preserve the landscape's purity. "Our dramatic nature is something truly unique and special to our country," Aasarød says. "But even though this fascination with nature is a romantic idea, the Norwegian building tradition is rather pragmatic, without ornamentation."
Click here to read an extended interview with architect Leo Mieles about his Georgian Bay Cottage.