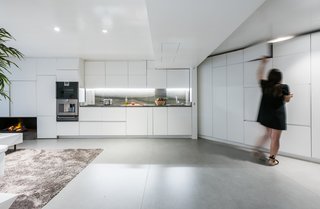 This Madrid Home Morphs From Studio to Two-Bedroom Apartment With the Push of a Finger
A Madrid couple make the most of just 750 square feet with movable walls and furniture.
In Madrid, Spain, local business owners Gerardo and Pilar decided to downsize and renovate an apartment they owned next door to Gerardo's well-known restaurant in the Barrio de las Letras neighborhood. With Pilar's son Guillermo finishing school and leaving to pursue a master's degree abroad, the couple decided it was a practical time to downsize.

Cutting their living space in half was challenging enough (they were moving from a spacious apartment over 1,600 square feet in size), but the extremely compact city apartment had a host of other obstacles that would require creative problem solving. The space was long and narrow, with low ceilings and only four small, short windows facing the street. Because of this configuration, the entire apartment was severely light challenged, and it would be a critical objective to get light from the small front windows into the interior space.
To come up with a creative design that would make the most of the challenging layout, the couple enlisted Madrid's Enorme Studio. The team worked closely with Gerardo and Pilar, who they call "strategic partners." "They were really open and clever, and also confident that we could help them in getting the best out of such a difficult and limited space," says the Enorme team of their clients. After a year of planning and design work, the group arrived at an unconventional approach where almost all of the interior walls would rotate for ultimate functional flexibility.
Shop the Look
Gerard and Pilar's requirements for the space were two bedrooms—one for them, and one for when Guillermo came to visit—an open living space for parties and entertaining, and a top-of-the-line kitchen to accommodate their love of cooking. Perhaps most importantly, the couple wanted the flexibility to navigate between different use cases, so that the entire space could be kept open when not hosting guests or visitors. "The real change of the house is that it fits our needs, and not the other way around," explains the Enorme team.

The project, in its inception and design, was overwhelmingly experimental in nature. The way of viewing space as fluid instead of finite marks a shift in approach from more traditional building techniques. "It is a radical change in terms of attitude, philosophy, and state of mind. We're convinced that this philosophy can make not only a tangible impact among traditionally built residences, but is a way of conceiving spaces that…[have] the power to improve our living standards," says the Enorme team. "Just as our lives change, our home changes with us."

Furthermore, there is great potential for applications in dense urban areas. Space is scarce in highly populated cities, so packing increased function and livability into smaller spaces is a promising urban trend. "Cities need compact homes that consume less resources and optimize space to the maximum," emphasizes the Enorme team. For Gerardo and Pilar, they are happily able to enjoy the spacial benefits of a much larger apartment—all in only 750 square feet.

Get the Pro Newsletter
What's new in the design world? Stay up to date with our essential dispatches for design professionals.