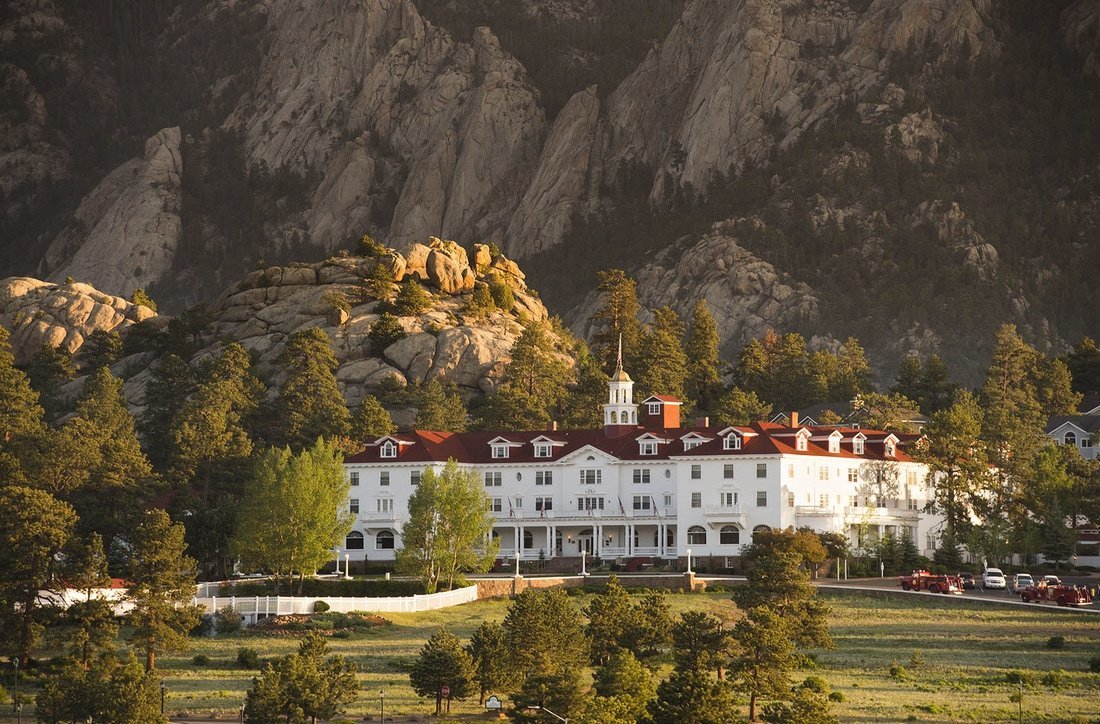 Why Estes Park, Colorado, Should be Your Next Nature-Filled Getaway
Colorado's "original playground" has so many places to play.
Known as "the basecamp to Rocky Mountain National Park", Estes Park is a breathtakingly-beautiful mountain town that sits at an altitude of 7,522 feet. Located just 90 minutes outside of Denver, at the eastern entrance to Rocky Mountain National Park (RMNP), Estes Park is a classic mountain village with a long heritage, that is beloved for its majestic mountain beauty, free-roaming wildlife, and opportunities for outdoor adventures. A family-friendly town that is one of the most visited scenic spots in the state, Estes Park is the ideal spot to indulge your wanderlust and escape into nature after months of sheltering in place.
While archaeological record shows that humans have existed in the area for at least 12,000 years, it wasn't until about 200 years ago, in the early 1800s, that the first wave of adventure seekers from the east, the "mountain men", explored the area in search of beaver pelts and bearskins. Not long after that, gold was discovered in Colorado in 1859, and more people began to make their way into what is now called the Estes Valley. Although most of the gold mining was further south, a miner named Joel Estes settled in the area and is attributed with "discovering" the Valley that is now named for him.

More recently, in 1982 a man-made earthen dam burst in RMNP, and sent the river flooding into downtown Estes Park. The destruction served as a catalyst for a major renewal of the downtown area. Estes Park has since grown into a popular tourist destination, and set with the glorious backdrop of the rugged mountain range and the surrounding alpine tundra—it is easy to understand why.
In addition to natural beauty, downtown Estes Park features a tree-lined street dotted with Victorian lights and riverfront walkways with mountain flowers and a lovely lakefront—all which paint a picturesque picture of the quintessential mountain town.
Wowed by this nature-filled travel destination, we've compiled a list of the best places to stay and some must-see spots that you should not miss.
(Note: COVID-related restrictions are currently still in place—so please check sources directly for the most recent updates.)
Where to Stay
Della Terra is a boutique wedding venue "chateau" located above Estes Park at the Fall River entrance to the RMNP. The resort features 14 luxury suites and a spa plus spectacular alpine surroundings.
Freshly-renovated and pet friendly, The Ridgeline Hotel has a heated indoor swimming pool and hot tub with a giant 180" projector screen where they show family-friendly movies on a daily basis.
Probably one of the best-known spots to stay in Estes Park, The Stanley Hotel is a colonial revival hotel just five miles from the entrance to RMNP, with panoramic views of Lake Estes, and the Rockies. The hotel was built in 1909 by Freelan Oscar Stanley, an inventor, entrepreneur, hotelier, and architect, as an upper-class resort and health retreat, and is listed on the National Register of Historic Places—but you might be more familiar with it as the inspiration for the Overlook Hotel in Stephan King's The Shining.
Rent a room in this stunning modern cabin that celebrates the outdoors. The home was designed by Dutchish Architecture, located only a 1/2 mile from the RMNP, the Airbnb features stunning views of Longs Peak, close proximity to hiking trails, and wildlife (Elk, Deer) in the front yard.
This secluded, modern cabin is nestled in a peaceful pine forest across from a prime fishing hole on the Big Thompson River and only eight miles from the RMNP.
What To Do
Estes Park isn't just Colorado's "original playground" it's also one of its best—so you might need to schedule an extra week to indulge in the numerous activities that the area offers. Start with horseback riding in the National Park Gateway Stables, at the edge of the RMNP at the Fall River or North Entrance. Open for the season with special COVID regulations, all rides enter the RMNP and you don't need a park entrance pass or reservation to ride. A two-hour ride will run you $80. If you are feeling slightly more adventurous, you can also book a Rocky Mountain llama tour through Kirk's Mountain Adventure. A cool alternative to the traditional backcountry experience, llamas are native to high mountain terrain and thrive while climbing—all you just need to do is relax and enjoy the views. Colorado is also famous for whitewater rafting and Rapid Transit Rafting and Mountain Whitewater both offer half-day and full-day tours to ride the rapids. But if you are looking for a more chill, scenic water adventure check out Estes Marina, and their kayak rentals on Estes Lake.

Where to Hike
Naturally, your visit will include hiking, and the RMNP is famous for many top trails. Don't miss Emerald Lake Trail, a popular and picturesque 4.1-mile moderate "out & back" trail near Estes Park that doesn't disappoint. The hike takes you to some scenic hotspots that include Nymph, Dream, and Emerald Lakes—and if you are feeling up to it, make sure that you do the final extra mile around Bear Lake. Be aware that it can get crowded, so try to visit early on a weekday if possible. For an additional challenge, you can also access Chaos Canyon Cascades waterfall via the Bear Lake trailhead, which is a 4.2-mile hike to see one of the lesser visited waterfalls in the park.
The Sprague Lake Trail is a family-friendly, virtually flat hike that is just under a mile. Morning is a good time to hit the trail which provides stunning, panoramic views of the Continental Divide.

If you venture outside of the National Park area, Hermit Park offers somewhat less crowded trails like the Limber Pine Trail to Kruger Rock via Saddle Trailhead, a moderately-trafficked 7.5 mile out and back trail not far from Estes Park that is known for its beautiful wildflowers.
If you are looking for scenic views without all the hiking, you can drive Trail Road Ridge, the highest continuous paved highway in the US—the highest point of the Trail Road Ridge is 12,183 feet above sea level. The 48-miles-long road connects Estes Park to Grand Lake and is a super-scenic masterpiece of engineering. Estes Park Aerial Tramway is currently closed for the 2020 climbing season due to COVID, but somewhere to keep in mind for future visits. For a very light high with a scenic overlook, don't miss, Forest Canyon Overlook, just a 0.2 miles walk from the parking lot. This is an accessible spot where you can easily take in all the beauty of the surrounding Rockies.
(Note: RMNP is currently in Phase 2 of reopening. A car pass and a timed-entry permit or camping reservation are required to enter between the hours of 6:00 am to 5:00 pm.) You can make a reservation for your timed-entry permit here.
Where to Hydrate
After a long day hiking in the mountains, be sure to check out Estes Park's growing craft brewery scene. Located in a converted gas station, Lumpy Ridge Brewery is currently serving carryout beer and has limited outdoor patio seating with a BOGO flagship pint happy hour from 5-7:00 pm. Avant Garde Aleworks is Estes Park's newest brewery offering rotating taps and a scenic patio to enjoy your post-hike brew. Elkins Distilling Company is a whisky distillery and tasting room across from Lake Estes which opened in 2016 as the town's first legal distillery.
Where to Shop

Estes Valley Farmers Market is a seasonal open-air market which takes place every Thursday from 8:00 am to 1:00 pm from June to September. It is the go-to spot for fresh locally-grown produce and other treats. It is a great chance to check out the local art scene and meet some local artisans selling their wares. Looking for a kitschy Western-themed trinket to take home with you instead? Check out Buckles of Estes, a for their collection of thousands of belt buckles and leather belts.

Get the Dwell Travel Newsletter
Start exploring far-flung design destinations, the newest boutique hotels, and well-designed bars and restaurants perfect for the modern jetsetter.