Creative Revival of a Modernist Gem
Introducing a series of structures, two architects weave a house with a notable pedigree into the landscape.
On a recent evening, a baritone, belting out an aria, emerged from the wooded slope onto the pool deck of Mary Blodgett and Carlton Calvin's home in San Marino, California. During the operatic medley that followed, guests mingled on hillside patios and steps, eating artisanal pizzas from an outdoor kitchen. Just a few years earlier, this backdrop for musical fundraisers and casual parties had been an impassable bramble, covering the long slope below an aging midcentury house.
Newsletter
Join the Renovations Mailing List
Get carefully curated content filled with inspiring homes from around the world, innovative new products, and the best in modern design
It would take a multiphase renovation to rejuvenate the vintage home and restore the natural landscape. The decision to remodel also coaxed out the potential for a creative site plan that embraces the rugged topography. High on an oak-studded, 1.4-acre parcel sits a house that architect Calvin Straub, a Japanese-influenced modernist, built in 1954. Over the next half-century, the original owner left the architecture virtually untouched. The building became run-down, and its interiors dark and tired. But the Blodgett-Calvin family could see past the heavy carpeting and drapes. "The original features were still there," Mary recalls. "We loved the midcentury, indoor/outdoor character, and also the land—just perfect for kids."
"We wanted to preserve the idea of a house being deferential to the landscape." —Alice Fung, architect
After purchasing the house in 2004, the couple hired a top architect for renovations, but he encouraged them, as Mary puts it, to "pull the trigger" on a demolition and construct a new house. Although they liked his design, the owners were reluctant to rebuild. After temporarily shelving the project, they returned to it in 2010 with a different approach. They engaged Alice Fung and Michael Blatt of Fung + Blatt Architects (later joined by Elysian Landscapes), and the project gradually evolved into a mini-compound, with six pavilions tucked into the land's contours.
Initially, Mary and Carlton asked the architects to transform a dilapidated pergola into a ceramics studio; it's now a luminous 520-square-foot workspace, with concrete floors and millwork reminiscent of Japanese joinery. As Fung + Blatt tackled the main house, the owners asked for more buildings—a gardening shed, a pool cabana with an outdoor kitchen, a secluded guesthouse, an art studio and library for Carlton, and a storage building. "One structure led to another," Carlton says.
Unconventional ideas about remodeling suited these clients. Mary is a philanthropist and artist who hosts houseguests and large gatherings with enthusiasm. Her hand-thrown clay forms are expressive, and in the kitchen, she experiments with such combinations as wood-fired pizza with preserved lemon and asparagus and cookies infused with lavender.
That spirit of playful and productive investigation runs in the family. Carlton, who left a successful law practice to tinker with toy ideas, was instrumental in introducing the Razor scooter to America in 2000, launching a craze. (He's still president of Razor USA.) And the couple's sons have followed their own creative paths: Isaac, 21, is an avid singer-songwriter, and Seth, 19, held a patent while still in middle school.
The architects' strategy—integrating the requested pavilions—preserved the terrain, while referring back to Straub's design. Along the slope, the structures, Fung explains, progressively "blur the lines between building and landscape." With their minimal footprints, some burrow into the earth, while others echo the ground plane with planted roofs, up-tilted like tectonic plates.
Distilling and expanding on Straub's Japanese-inspired language wasn't about stylistic flourishes, but about proportion, rhythm, and materials. And that extended to the "huts," as the owners call their ancillary structures, which reinterpret the main house's textured modernism with earthy walls of board-formed concrete and redwood siding.
In harmony with the landscape, the architects replaced the stucco on the 3,025-square-foot main house, swapping its turquoise-trimmed yellow for lemongrass-green. (Straub's original color scheme is unknown.) The design team restored concrete floors throughout and opened up dark, fragmented areas, connecting the interior to outdoor "rooms." They removed partitions between dining and living zones, articulating the space with credenzas and built-ins. At the center of the house's pinwheel plan, the formerly enclosed kitchen is now light-filled and unencumbered, redefined by exposed ceiling beams and aqua-and-lime cabinets—nods to midcentury design. "It's the most amazing kitchen," says Mary—who used to produce "great meals from a toaster oven," according to Carlton. Now she can nourish crowds.
The couple kept the wisteria-edged tennis court—a relic that was part of a residence that predated Straub's design. It's still used for tennis, but it's also "a proving ground for Carlton's 'wheel goods,'" such as scooters and caster boards, Mary explains. "The kids would ride around or joust here—and it's where we've had receptions and dancing."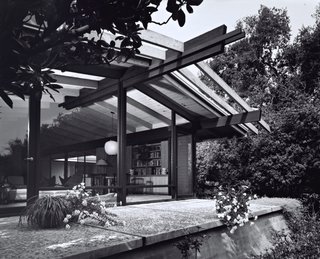 In the two years since completing the project, the owners have hosted six weddings for friends. They've also opened their home to fundraising and political events, to a weekend retreat for a youth chorus, and to performances, including a full opera.
While this idea of a home fanning out into satellite buildings serves one family's style of living, it's also about embracing a broader community. "We're very lucky to live here," says Mary, "and so lucky we can share it."