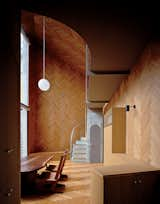 Compact Wooden Home in Japan
A distinctive wooden pattern lines the walls, floors, and ceilings of this compact home in Japan.
When Masahiro and Mao Harada of Mount Fuji Architects Studio designed this tiny Tokyo home, they decided to cover the interior surfaces with oak boards hammered one-by-one into a honey-colored herringbone pattern. "Using a different material for the wall versus the ceiling versus the floor has become a symbol that signifies a typical 'house,'" says Masahiro. "I wanted to get away from that and create something more like a cave. I thought that would free up the residents' approach to how they proactively use the space." The resulting effect is elegant and warm—and a perfect foil to the home's steely gray staircase.
Join Dwell+ to Continue
Subscribe to Dwell+ to get everything you already love about Dwell, plus exclusive home tours, video features, how-to guides, access to the Dwell archive, and more. You can cancel at any time.