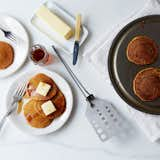 Here's What You Need to Make the Perfect Brunch at Home
We miss brunch too, but the next best thing is making your own.
As many of us still don't foresee brunching at our favorite restaurants anytime soon, now's the perfect time to hone your cooking chops—and endearing yourself to your family or SO in the process. Prepping coffee, pancakes, omelets, and everything in between is a breeze with our picks below.
Fellow Ode Brew Grinder
A powerful and precise home grinder with café capabilities, Ode Brew Grinder does things differently. When grinders try to tackle both brewed coffee and espresso, they become a master of none. In stark contrast, Ode was designed to perfect your daily brewed coffee— AeroPress®, pour-over, French press, cold brew, and more. With 64 mm professional-grade flat burrs, 31 grind settings, and unique single dose loading for maximum bean freshness, Ode is ready to hit the grind running!
Shop
Fill up on the Latest in Kitchen Design
Discover inspired kitchens and get design advice for the heart of your home.