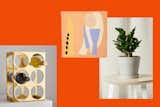 Home Design Gifts for the Pickiest Friends That Cost Less Than $100
These gifts are perfect for the discerning aesthete in your life.
If you're feeling particularly giving this holiday season—or have a stricct budget that doesn't go over $100—poke through this list of gifts that anyone would. be thrilled to receive. From indulgent cashmere pants to the perfect sling bag, these gift ideas will let them know you care (without draining your bank account).
Who needs wall art for the office when you've got this showstopper?
The perfect pair for their favorite merlot.
...and the perfect pair for their pinot grigio.
For the person who has everything, a plant is always a good option, especially one that essentially thrives on neglect.
A little luxury for an at-home spa day.
Take them inside the homes of fame designers like Roman and Williams, Sheila Bridges, Joseph Dirand, and more.
Allow us to introduce: Legos for grown-ups.
For winter mornings, Zoom meetings, and everything in between.
A useful piece of wall decor in a retro mint hue.
A bestseller on Dwell, with several mountainscapes to choose from.
Now everyone at the party can play bartender.
Ultra cuddly for post-shower bliss.
A lovely display for office tools, fruit, and assorted trinkets.
A moody dinner party must-have.
A sunny addition to any brunch spread.
Neck aches are no match for this crescent cutie.

Winter is coming—give them the give of hydrated skin from head to toe.
To house their plant babies.
A nice olive oil is key to a well-stocked kitchen—and this duo is twice as nice.
A much-raved-about moisturizer to soothe irritated skin this winter.
Bring a little bit of color to their dinner table.
The perfect starter kit to go with their diffuser.
Pamper the home chef with countertop fresh herbs all year long.
The essential travel bag.
Help them break up with single-use plastic bottles with a pitcher that makes tap water taste wonderful.
Not your grandmother's tea kettle.
For when their wallet could use a serious upgrade.
A coffee table book they'll actually read.
A more eco-conscious skillet set to up their chef skills.
So they can display their vintage collection with pride.
Looking for something else? Check out the rest of our holiday gift guides here.
Okay, maybe you want to spend a little less:
We love the products we feature and hope you do, too. If you buy something through a link on the site, we may earn an affiliate commission.
Get the Shop Newsletter
Smart shopping for the design obsessed. Find what you love in our expertly curated selection of finely crafted home, office, travel, and lifestyle products.