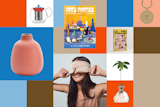 Our Favorite Crowd-Pleasing Gifts for $50 or Less
These budget-friendly picks feel delightfully individual—yet universally cool.
Spend a little, give a lot. From a refreshing, non-alcoholic apéritif to a cult-favorite face cleanser made from superfoods, these presents hold wide appeal while still bringing an element of surprise.

Something cheerful to hang in their favorite hangout.
A now-classic design perfect for the desk, bookshelf, or fireplace mantel.
For the one who's always up on the latest buzzworthy show.
A handsome mug with a pleasing weight.
The curvy, elongated spout on this kettle or creamer makes for the perfect pour.
The eco-friendly way to pack lunch.
For the one who loves to entertain, this book encourages get-t0gethers that go off the beaten path.
Aside from keeping butter at the ready—an all-important task—it looks great on the countertop.
Delightfully groovy candles to add to their collection.
Le Puzz brings a dose of retro kitsch to the game.
Something to sip on—hold the hangover.
When it comes to performance, there's no arguing with Yeti.
Available in two different color combos, this teapot brings some extra pep to the brewing ritual.
For the one who's serious about their spirits.
A nourishing cleanser that's garnered rave reviews.
Esther Perel is a master of human connection—gift this to someone who's not afraid to open up.
The surefire way to make them feel pampered.
A colorful, versatile tray that fits within a larger modular system.
For the one who's always losing their keys (but we don't judge).
We love the pleasing bulb shape of this vase—and the promise of future avocados.
Everyone needs a solid set of cheese knives.
These coiled candleholders from Brooklyn-based ceramicist Virginia Sin are a fan favorite for a reason.
A sleek way to display and organize their jewelry collection.
A great coffee table book and source of inspiration.
Pulverize fresh spices or garlic—or store them in style.
Jazz up the kitchen counter or open shelf with this little number.
A rich and refreshing way to indulge without the booze.
A watering can worth leaving on display.
No more disintegrating soap bars that slime up the shower.
Exceedingly cozy and easy to slip on.
Give the gift of uninterrupted Zs.
A soothing treatment that combats the colder, drier months.
Friendly curves and saturated colors set this bottle apart.
For a hotel experience in their own bedroom.
For the one who's done struggling with that late-night Ben & Jerry's.
The bell for the discerning bicyclist.
A woodsy scent to set the mood.
Not your average wine glass.
Looking for something else? Check out the rest of our holiday gift guides here.
Related Reading:
Get the Shop Newsletter
Smart shopping for the design obsessed. Find what you love in our expertly curated selection of finely crafted home, office, travel, and lifestyle products.