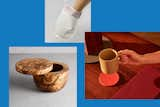 Stocking Stuffers for $25 or Less That Are Perfect for the Design Obsessive
These tiny treasures are just the ticket for those who are hard to please.
You don't need to spend a fortune to make sure everyone on your list gets something special and personalized. If you're trying to stretch your budget, these little luxuries make thoughtful gifts for even the hardest to shop for.
For the Home
They may not live in an Eichler, but their home can smell like one.

For struggling plant parents.
The perfect coffee table book for midcentury design lovers.
Brighten up family game night.
A pop of color that'll save their coffee table from water marks.
The greatest office accessory for those seeking a pop of color.
The people starting a new conversation in sports bring the dialogue to your dinner table.
The sands of time are, in fact, blue—or purple, or yellow...


For the Kitchen
The most affordable Le Creuset we've ever seen, and surprisingly versatile.
It opens, it closes—and it's under 10 bucks.
For crafting the perfect latte on the go.
A well designed diagram for the aspiring barista.
Never scratch a beloved pan again.

These enamel cups will make your afternoon cold brew feel a little more festive.
Everything has its place, including the salt.
If you can get past the plastic handle, this is a surprisingly good knife.



For the Pantry
No matter what anyone says, beans are a good thing to have on hand, especially fancy ones like these.
Just some very good coffee that anyone will appreciate.
Made in California, and in darling packaging to boot.
The flagship product of Diaspora Co., an equitable brand with a mission that goes beyond fair trade.
The Dwell team is obsessed with this—and you can find it on the shelves of some of our favorite design shops.
For the Bath
Take their home spa one step closer to a Japanese onsen.
For all those hard-to-reach places.
The best tool for a proper scrub.
A great cleanser for sensitive skin—and the beautiful typeface doesn't hurt.
These reusable cotton pads and colorful holder won't be going to the landfill.
"Slab" sounds more substantial than "soap bar," doesn't it?
Want to branch out? We're huge fans of the design approach behind this brand.
For a moment of Zen from one of our favorite Brooklyn design shops.
What every Cool Person is using—and we can personally vouch for it, too.
This shade of green rhymes with "dreams."


For the Closet
Classic, cool, and camp-appropriate.
You can never have too many tote bags.
This brand never steers us wrong—it's impossible to pick just one pair, but let's start with these.
Looking for something else? Check out the rest of our holiday gift guides here.
We love the products we feature and hope you do, too. If you buy something through a link on the site, we may earn an affiliate commission.
Get the Shop Newsletter
Smart shopping for the design obsessed. Find what you love in our expertly curated selection of finely crafted home, office, travel, and lifestyle products.