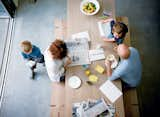 Top 8 Espresso Makers Under $100
Add a dash of design to your morning coffee with these stylish espresso makers.
If you're a coffee fanatic, then there's nothing like the aroma of a strong, flavorful roast filling your home in the morning. We've rounded up our favorite affordable picks that will have you brewing like a pro in no time.
We love the products we feature and hope you do, too. If you buy something through a link on the site, we may earn an affiliate commission.
Related Reading:
Fill up on the Latest in Kitchen Design
Discover inspired kitchens and get design advice for the heart of your home.