Merging Inside and Out, an L.A. Firm Modernizes a 1940s Abode
When HH Design first saw this compact, 1940s stucco home outside Santa Monica, California, its street appeal was nonexistent.
A diseased lemon tree obscured the facade, and the front yard was full of rocks. The interior hadn't fared much better: the 1,000-square-foot house had three bedrooms and a bathroom, but they all felt cramped and dark. With its proximity to Marina Del Rey and the beach, the house had great potential to be a vacation getaway for its new owner—it just needed the upgrades that would let him enjoy the California climate.
HH Design delivered with an overhaul of the entire lot, which included the main home, the front and back yards, and a garage studio conversion. The firm created seamless, modern, indoor-outdoor living, all without expanding the home an inch.
Keep reading to see how they did it.
Front Facade Before
Front Facade After
Front Yard Before
Front Yard After
HH Design took advantage of the yard's set-back position by adding a large deck off the great room, accessible via the double doors, thereby extending the interior to embrace the front yard. Oversized dark aluminum windows produce exterior cohesion and bring much needed light inside. The material palette includes the mahogany deck and privacy screen, smooth stucco, and a coral stone gravel patio. Carl Balton + Associates brainstormed the planting plan and selected species for a drought-tolerant landscape.

The front door was repositioned to maximize interior living space. The charcoal fencing is stained with Benjamin Moore's Arbor Coat in the color Cheating Heart.
Before: Living, Dining, Kitchen, Hallway
After
What was once three squeezed rooms is now one great open space, thanks to the removal of a dividing wall and newly vaulted ceilings. This area's footprint essentially stayed the same. The bedrooms were rearranged slightly to carve out a circulation spine down the center of the house that connects to the backyard.
In the new kitchen, a ten-foot island is a cook's dream. White gloss custom cabinetry, glass tile in a sage color, and engineered oak floors in an eggshell finish form a soothing palette.
The kitchen looks to the new double doors and oversized windows at the front.
Before: Bathroom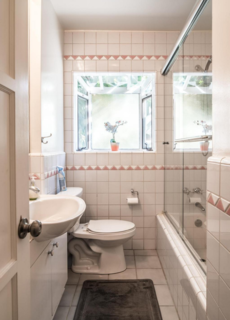 After
Custom vanities save space and create consistency throughout the interior. HH Design managed to incorporate an additional 3/4 bath in the renovation.
After: Backyard
The garage was retrofitted into a studio, and its exterior syncs with the smooth stucco finish and door style of the main residence.
Oversized concrete pavers, measuring 2 feet by 12.5 feet, create a private seating area at the back of the house.
Now an airy retreat in the seaside city, the Del Rey Residence offers calm interiors that reach for the outdoors.