Mary Barensfeld, a 34-year-old architect from a rural town near Pittsburgh, Pennsylvania, moved to San Francisco eight years ago and was immediately taken by the Bay Area's year-round gardens. Luckily, she also came with a degree in landscape design from the University of Pennsylvania, "because I don't think architecture stops with a building," she says. "Architecture and landscape should meld into one design process."
Not surprisingly, her first big project—a steeply sloping rear garden for a young family in the Berkeley Hills—is an outdoor room for quiet contemplation that echoes Le Corbusier's oft-quoted dictum, "The outside is always an inside."
The 1,150-square-foot garden serves as an elegant transition from the couple's 1964 Japanese-style town house to a small, elevated terrace with views of San Francisco Bay.
The confident, tectonic design is composed of an ipe deck next to the house; a patch of white-granite patio stone, cut to match the boards of the deck; a slender, trapezoidal reflecting pool between the two; and a terraced hillside. All are made from simple materials that Barensfeld says will "gain additional visual complexity through weathering." Filigreed Cor-Ten steel fence screens—perforated with a water-jet cutter to cast dappled shadows on a bench and the ground below—and zigzagging board-formed concrete retaining walls are examples.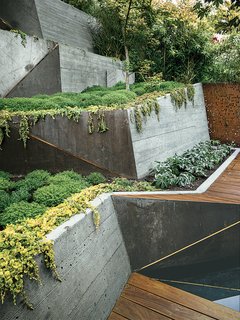 Instead of adding a space-consuming stairway for the residents to reach the highest point in the yard—17 feet above the 400-square-foot patio—Barensfeld designed the concrete walls to double as walk-up ramps. Striking and essential, the walls were also the garden's most costly feature, because—due to the steep grade and seismically sensitive location—they required 16 stabilizing piers and beams.
The garden reflects structural lessons Barensfeld learned in Japan, where she traveled for six weeks of intensive study in the summer of 2003 while she was still in graduate school. "I noticed that Tadao Ando's almost brutalist concrete work is designed to play off the intricate garden spaces of Kyoto," she says. "I am always swayed by structure. Plants and soil are best combined with hearty doses of built forms and robust trees."
Barensfeld has employed other landscaping tricks that she observed in Japan to make the Berkeley garden seem bigger than it is. The ornamental pool reflects the sky as well as the distinctive foliage of three types of Japanese maple. Golden creeping Jenny drapes over the walls, perfectly complementing the maple trees— especially in the fall, when the Bay Area experiences its finest weather. Lemon thyme ground cover adds a fragrant dash of color to the ramps.
"I kept the plant palette simple for easier care, and Japanese maples are so sculptural anyway," Barensfeld says of the garden, which was completed in March 2012. "They offer an ever-changing pattern of light and shade."