A Renovated Ray Kappe Abode in Manhattan Beach
Up-sizing from a small bungalow, Kristopher Dukes and Matt Jacobson take a minimalist approach to renovating and furnishing a soaring '80s-era Ray Kappe–designed house.
Amid the miniature Tuscan villas and Mediterranean mansions that jockey for prime ocean frontage on the Strand in Manhattan Beach, California, stands a house in a class all its own. With a curving facade of steel, concrete, and glass, the 5,200-square-foot volume rises from its south-facing corner lot like an ocean liner ready to set sail.
Newsletter
Join the Renovations Mailing List
Get carefully curated content filled with inspiring homes from around the world, innovative new products, and the best in modern design
Passersby may be surprised to learn its architect was the seminal Southern California modernist Ray Kappe, whose wood-and-glass dwellings have long explored the intersection of indoors and out. Designed as a weekend retreat in the mid-1980s for animation producer Lou Scheimer and his wife, Jay, the house features a two-story atrium and a rooftop deck, complete with lap pool and widow's walk. When it came on the market for the first time in 2010, locals Kristopher Dukes and Matt Jacobson were intrigued.
Jacobson, Facebook's head of market development and a Manhattan Beach native, remembered the house being built. Once inside, he says, "We were awestruck by the thoughtful design." Dukes, a writer, agrees. "Though it makes a statement, I believe Kappe designed it as a solution: How do you take advantage of the lot and the views and make the house feel as expansive as possible?"
Indeed, whether from the deck or the double-height living-dining room, one can gaze south to Catalina Island or as far north as Malibu. More light streams in through a glass barrel vault above the transparent staircase, which zigzags from the roof to the ground floor. "The house is very unique," says architect Dean Nota, who spent more than ten years in Kappe's office and worked closely on the project's design and construction. "It's all about the horizon, the experience of being at the beach."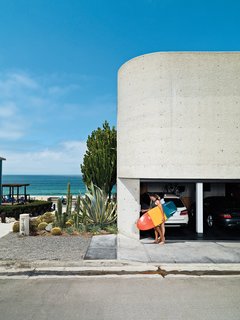 But the interiors, which featured black-and-white melamine cabinetry, plush red carpets, and a 30-foot semicircular bar, seemed at odds with the architecture. Jacobson and Dukes never doubted that they wanted the house; the question was how to bring the architecture to the fore.
Though Jacobson and Dukes had previously renovated a nearby bungalow (Dwell, June 2011), they met with several architects and designers to get their input on the Kappe house. "They all wanted to do major plastic surgery," Dukes recalls. "The house had beautiful bones; it needed a minimalist makeover to make it as timeless as possible."
Unwilling to yield to somebody else's vision, Dukes began formalizing her ideas, teaching herself the 3-D modeling program SketchUp. "Kristopher was dogged about letting the house dictate the design," Jacobson says.
Armed with a plan to "purify" the spaces, Dukes was ready to move forward—but first she sought out Kappe for his blessing. "I found it a little intimidating because I'd slightly deified him," she admits. At their first meeting, she told him she wasn't sure how to replace the living-dining area's massive bar. "The bar was a big part of the room," acknowledges Kappe, who, at 86, maintains an active architectural practice. "The original owners thought of the house as their weekend retreat and enjoyed serving drinks and having parties." When Dukes showed him a sketch of a wood bench that would mirror the curve of the exterior wall, he told her it was exactly what he had in mind.
With the matter of the bar resolved, she designed a semicircular sofa for the living area and introduced muted beach tones: sea-glass-green leather for the Jean-Michel Frank Confortable chairs and blue-gray leather for the sofa. No detail was too small. All the new leather was finished with baseball stitching. "I'm big on consistency," she says with a smile.
Then there was the question of what to do with all that melamine. Echoing the house's original woodwork, the couple replaced the lower cabinets in the kitchen with horizontal-grained teak and removed the upper cabinets completely to reveal the bush-hammered concrete beneath—a change Kappe endorsed. "It's much nicer than the original," he says. The teak cabinetry continues upstairs, where Dukes designed a glass-topped case for the dressing room. "Matt has an amazing collection of things," she says. "I wanted to create display areas so that everything felt curated."
Though the house is nearly six times larger than their former residence, the couple was committed to a minimalist, modern aesthetic, settling on well-chosen pieces by Charles and Ray Eames, George Nelson, Arne Jacobsen, and George Nakashima. "It's a large house, but it doesn't feel wastefully big," Jacobson says. "We did take some favorite items out of storage, while purchasing some pieces that we thought would work in the new space. Other than the addition of a few more Raymond Pettibon surf drawings, our collections haven't grown. We still stick to a 'one in, one out' policy. And that goes for T-shirts as well as pottery."
In the end, Jacobson and Dukes have made the house their own, a fact that pleases Kappe. "I always like people to be a part of the process, to have a place that feels good to them," he says. Notes Dukes, "I love Ray as a person and as an architect because he is all about problem-solving and creating value and beauty. I feel so lucky to live here."