A Minimalist Bathroom in Los Angeles
Recommended by
For the bathroom inside a renovated Hollywood bungalow, architect Noah Walker used a simple palette of gray and white tile, black countertops, and stainless steel fixtures. "I love minimal bathrooms with natural light, so less is more, and pay attention to the details," he advises. "We wanted to keep the space within the spirit of the house, which was an austerely masculine space with a warm but dark palette. I am a big fan of using dark ceilings to pull the eye to the outside so we chose matte black for the ceiling and a similar dark color for the floors. The penny tiles were a great way to add detail to the walls without them becoming visually cluttered."
Here's a listing of the products and materials he used: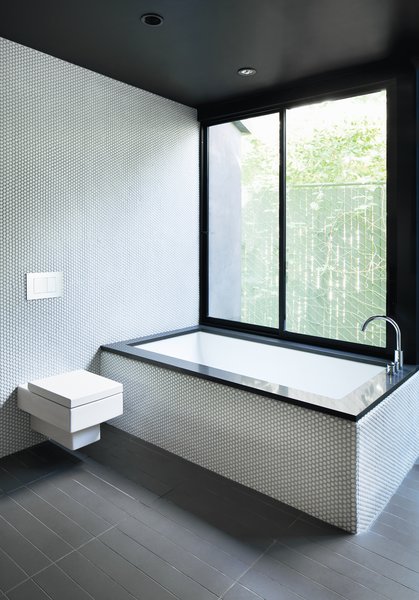 Diana Budds
@dianabudds
A New York-based writer, Diana studied art history and environmental policy at UC Davis. Before rising to Senior Editor at Dwell—where she helped craft product coverage, features, and more—Diana worked in the Architecture and Design departments at MoMA and the San Francisco Museum of Modern Art. She counts finishing a 5K as one of her greatest accomplishments, gets excited about any travel involving trains, and her favorite magazine section is Rewind. Learn more about Diana at: http://dianabudds.com
Everybody loves feedback. Be the first to add a comment.
The author will be notified whenever new comments are added.