A Laser-Cut Pergola Completes a Tranquil Garden in L.A. That's Perfect For Entertaining
A laser-cut metal pergola anchors a tranquil garden near Los Angeles.
While studying silk-screening in college, Lillian Montalvo was encouraged to test the limits of her imagination. She obliged, throwing dry spaghetti onto a table and watching as the pieces fell into a pleasing arrangement. That linear pattern, which she says evoked the "randomness" of nature, stuck with her.

Newsletter
Join the Daily Dose Mailing List
Get carefully curated content filled with inspiring homes from around the world, innovative new products, and the best in modern design
Fast forward a few years, and Montalvo, now a landscape designer, was updating the backyard of a home northeast of Los Angeles. Planted with mature oaks, figs, and a variety of citrus trees, the garden had been added to over the years, but it lacked a sense of coherence with the house's midcentury lines.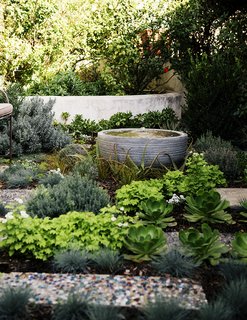 And then there was the question of what to do with the sizable mound of dirt where an oak tree once stood.
"There's a randomness to the pattern of the laser-cut panels, like Pick-Up Sticks. If you tried to do it deliberately, it wouldn't look as cool. It's like a thicket." Lillian Montalvo, landscape designer
Taking the architecture into account, Montalvo came up with a plan to level the mound and replace it with a modern, open-air structure set atop a large concrete slab, with cantilevered stairs and concrete benches, complete with a water feature that spills into a metal basin.
Since her clients envisioned a pergola that offered filtered light yet was also maintenance-free, she considered but ultimately jettisoned materials like wood, fabric, and woven willow. And then she hit upon the idea of a metal frame, topped with panels laser-cut in a geometric design that recalled her youthful experiment with pasta. "This is more manipulated, of course," Montalvo says, "but I've always liked the way the pattern looked. It's funny where inspiration comes from."
Having integrated laser-cut metal in a previous garden project, Montalvo called upon the same local firm, Danrich Welding, to cut 4-by-8-foot sheets of 1/8-inch-thick aluminum for the pergola roof. "The bulk of our work is doing after-market trike conversions—converting motorcycles to three-wheelers," says Danrich president James Green, who worked closely with Montalvo to hone a design that could easily be cut by the firm's 3,000-watt Trumpf laser machine.
Montalvo, a native of Cuba who was raised in New Orleans and is now a resident of Los Angeles, brought together a diverse array of plants from around the world. There's agave, aloe, aeonium, westringia, artichoke, Kangaroo Paw, Dietes 'Lemon Drops,' lavender, rosemary, and salvia. "It's mostly Australian, Mediterranean, and African, and as drought-tolerant as you can get without going to just succulents," she says. "I usually do big sweeps of one, two, or three plants, but with this house I did a lot more texture because that's what the owners like."
The residents are delighted to have a garden that finally works, along with a place where they can entertain or simply relax and enjoy the flickering sunlight. "The pergola is quite large, but it never feels like an enclosed space," says the wife. "It's stunning in summer because of the pattern reflecting on the ground."