A Heavenly Backyard is Precise with Pebbles
A San Francisco landscape designer finds a small-space solution that's anything but narrow-minded.
Covering a patchwork of concrete with AstroTurf was the first solution that came to mind when the Sharkey family thought of redoing the backyard of their San Francisco home. For Emily, a stay-at-home mom, and Michael, who works in finance, the priority was to create a low-maintenance space where their three exuberant girls, Carolina, Serafina, and Madeleine (ages 4, 6, and 8), could romp freely. But rather than take the expedient route, they connected with local landscape designer Monica Viarengo. She brought in a multitude of elements—space-saving vertical gardens, a massive water wall, and a joyful mural—while meeting her clients' requirements for minimal upkeep. The result is a colorful urban garden that both children and adults can enjoy.
Newsletter
Join the Daily Dose Mailing List
Get carefully curated content filled with inspiring homes from around the world, innovative new products, and the best in modern design
"This is a space we can grow into and grow up with—you get the idea of the kids, but it's not too kid-centric," says Emily, a former elementary school teacher. Adds Michael: "Every aspect is used and enjoyed, which is really key in the tight living spaces in San Francisco."
Along one edge of the compact backyard, Viarengo designed a 12-foot-wide, six-foot-tall water wall, which masks street noise and provides the girls with a basin for wading. For the hardscaping, she proposed gravel as an alternative to concrete pavers—but that material had its own potential downside. "I was worried that one of the girls would pick it up and throw it at her sister, so I asked if there was some way to nail the gravel down," Emily says. Instead, Viarengo proposed a traditional pebble-mosaic technique called risseu, prevalent in her native city of Genoa, Italy. She created a design with concentric rings of colored pebbles, inspired by water droplets. "It's durable and feels wonderful when you walk on it barefoot," Viarengo says. "And it's not static—when it gets wet, all the vibrancy of the colors comes out."
Per the clients' request for the biggest possible space for the kids, most of the backyard is covered in drought-impervious artificial grass. The two-story guest cottage in back, where the girls' paternal grandparents live, now supports a play structure. Viarengo, who trained as an architect in Italy, refreshed an exterior staircase and added a stainless-steel slide to it. Because the home is in the city's Mission District, which is known for its vibrant murals, the designer wanted to bring the flavor of the neighborhood into the backyard. She asked local artist Erik Otto to create a colorful mural as the backdrop for the whole garden. She also covered a wall of the main house in chalkboard paint for the girls to decorate on their own.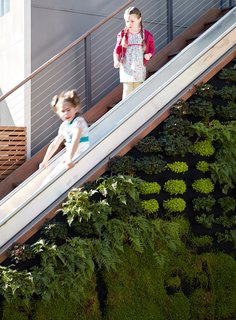 And though the Sharkeys wanted a yard with minimal upkeep, Viarengo convinced them that it would be possible to include plants with living walls that would be easy to care for with a built-in irrigation system. The ferns, heuchera, and other shade-loving plants cascade down, adding a welcome lushness to this urban backyard.
Nearby, Viarengo filled a narrow planter with espaliered lemon trees and vegetables, which the kids enthusiastically tend. "When clients approach with an idea and work with a designer, things can really bloom," Viarengo says.