A Forest Sanctuary Designed to Support Autistic Triplets, Their Parents, and a Host of Caregivers
Architectural harmony defines a family's home near Lake Tahoe.
Ever since the birth of Amy and Nick Bancroft's triplets six years ago, the couple's lives have been a whirlwind of activity. But when their son and two daughters were diagnosed with autism four years ago, things shifted into overdrive, and the family's home, near Truckee, California, became a de facto therapy center, with a stream of professionals cycling through daily to provide specialized interventions. The Bancrofts didn't just need a place for themselves, they needed their home to be a home. "During the week, we'd have up to a dozen people at the house," says Nick. "We figured out quickly that we needed separate areas for kids and therapists, and areas off-limits to them during therapy so that Amy and I would have privacy."
Newsletter
Join the Daily Dose Mailing List
Get carefully curated content filled with inspiring homes from around the world, innovative new products, and the best in modern design
A former Scavolini kitchen dealer in Las Vegas and Reno, Nevada, Nick had a vision for a modern house with areas for learning, therapy, sleep, and play, as well as common spaces for family time, a retreat for their 10-year-old son, and a private refuge where he and Amy could relax and refuel.
When the family found a forested, three-acre site not far from where they'd been renting and about a half hour from Lake Tahoe, they reached out to two old friends from Reno: architect Jack Hawkins and interior designer Cheryl Chenault. The challenge was to build a house that would support the Bancrofts' unique requirements for years to come, albeit on a grand scale—the living area is close to 8,000 square feet of the overall 10,000 square feet.
"The kids' needs were paramount to the design," says Hawkins, who came up with a plan that divided the house into four zones: the living-dining room, kitchen, and pantry; a children's wing; a master suite; and a detached guesthouse. Multiple entrances and exits would allow therapists as well as Nick and Amy to come and go without disrupting the kids' routines.
Despite the home's considerable footprint, it doesn't read as monumental on approach. "The last thing I wanted was for it to look like a country club," says Hawkins, who set the parking, mechanical, and storage areas at the property's lowest point, away from view. The kitchen, dining, and living areas occupy a soaring, open volume, defined by exposed structural steel beams and columns. Wood, concrete, hot-rolled steel, and glass set the tone for what Chenault calls "a pared-down sense of order."
The designer worked with the couple to prioritize their needs. "We talked about ways to streamline their activities—everything from waking up and preparing coffee and the kids' meals to grocery shopping, food storage, and entertaining," Chenault says. "Design decisions were made to simplify tasks and support and enhance daily events."
Individuals with autism tend to function better in an environment that minimizes visual distractions, so keeping things free of clutter was more than just a practical concern. Accordingly, the house includes a place for everything, from the pantry that neatly stores the triplets' preferred snacks to the seamless anigre cabinetry that keeps necessary items nearby but out of sight. This visual rigor also suited the couple's love for modern design. "I'm from the South and was used to red brick and antiques," says Amy. "Nick introduced me to modern. He told me, 'I fell in love with you, but can we not do the antiques?'"
Located on the west side of the house, the children's wing has four bedrooms, a library–study center, and a playroom, downstairs. Connecting to shared dormitory-style bathrooms, each bedroom has a workspace and a play area featuring durable, soothing materials; expansive windows fill the rooms with light and offer a connection to the outdoors. The older son's bedroom has a loft and a lounge area, where he can play games and hang out with friends.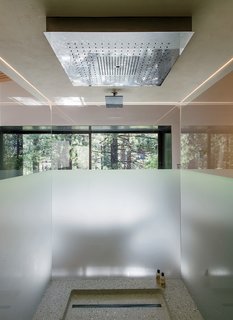 Nick and Amy's own retreat, on the opposite side of the house, opens to views of the forest and features sitting areas indoors and out, a washer and dryer, and a beverage and snack center, as well as a bathroom with a rain shower and a freestanding tub. "It's like an oasis," says Amy. "We never had privacy before."
"People hear 'three autistic kids,' and they don't know what to think," says Nick. "But there's a ton of love in the house. It's soothing to them and us."