28 Triangles Make Up This Hyper-Angular Family Home
Fresh geometries inform a modular residence in Portland, Oregon.
"It's grown-up Legos," says Kaja Taft, describing her modular prefabricated house in Northeast Portland, Oregon, designed by Jeff Kovel of Skylab Architecture. "There was nothing here. Eight hours later, there was a house made out of triangles."
Newsletter
Join the Prefab Homes Mailing List
Get carefully curated content filled with inspiring homes from around the world, innovative new products, and the best in modern design
Taft, an instructional designer, moved to Portland for college, where she met her husband, Kristopher, a fifth-grade public-school teacher. The couple lived in Spain for two years but came back to Portland. "I can't think of anywhere else I'd rather live," Taft says. "It's beautiful, easy to get around, and has culture. You can drive 20 minutes and you're in the woods."
The husband and wife, who have two young children, talked for a long time about having a house built. "We were hesitant because it's trying on a family," Taft says. "But we finally decided it was something we really wanted to do." Their first step was to approach Kovel, an architect and an old friend, for advice. "We've always loved his work," Taft says, "but we didn't think we could afford it. We went to him just to get some pointers." During their meeting, the couple told Kovel they wanted a modern house with lots of light and an open plan. It had to be something that was sustainable and affordable and that wouldn't take long to build. Instead of giving them pointers, Kovel gave them a description of a modular building system he designed called HOMB: any number of 100-square-foot prefabricated triangular structures that can be arranged and stacked together to create a small or large construction.
Originally, Method Homes (a company that manufactures custom prefabricated structures) hired Skylab Architecture to create an urban infill design they could prefabricate in their factory and deliver to any city site. "We gave them our shipping parameters and told them to go crazy," says Brian Abramson, who cofounded Method Homes with Mark Rylant. "And they did. They created something with infinite possibility that went way beyond the original commission." HOMB—the name is a derivative of "honeycomb" (six triangles make a hexagon) and expresses the idea of a modular system—is reminiscent of Frank Lloyd Wright's honeycomb concept for the Hanna House, from 1936, located on the Stanford University campus, in California. Both architects were looking to break from the pervasive rectangular form. Wright did so with a hexagonal shape; Kovel used a triangle. "We wanted something aesthetically dynamic," he explains. "But the choice was also practical because the form resists bending during shipping."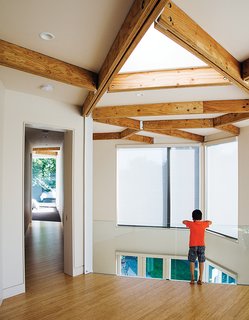 The Taft residence, the prototype for HOMB (which became a stand-alone company, owned by Skylab Architecture and Method Homes), rises out of its double city lot as a massive angular sculpture. Comprised of 28 triangles, which were delivered in six units, the house features a voluminous double-height living space that opens to the kitchen, the dining area, and the entryway. "My son, Rio, is six, and my daughter, Luna, is three," Taft says. "They're lovely handfuls and like to run from the front door all the way to the kitchen. The expanse is their open playground." The kids' actual playroom displays massive windows on either side of one point of a triangular module. "Your eye goes farther than the room," Kovel says. "The angles expand the space in a way that feels natural." The strategic placement of large windows throughout the house harnesses as much sunlight as possible. "The light in this house makes you feel like you're outside, even when you're not," Taft says.
The HOMB system was designed for customization. In addition to flexibility in window size and placement, the finishes, layout, and house size are also malleable. The Taft residence is three levels and has four bedrooms and three and a half baths. A driveway descends a half floor beneath street level to a basement, where there's a family room, a guest room, and another play area. "Radiant heat beneath bamboo flooring and rigid insulation on top of spray-foam insulation create a superior building skin that's critical to energy performance," Abramson says. The roof, too, is covered with the two layers of insulation, and also has a thermopolyolefin (TPO) membrane and solar panels. The interiors are furnished with a mix of custom and contemporary pieces that aren't too precious. "I have two little wild ones, so everything had to be something they could thrash," Taft says. There's a built-in sofa with an angular design that reflects the house's forms. "Portland is filled with artisans," Taft adds. "A friend of a friend made these beautiful bar stools out of wine barrels. We wanted to break up the strong forms with more organic, curvy furniture."
The pearl of this house—which is sided with vertical, black-stained cedar—is a glossy white central staircase that appears encased by its glass rail. "It spirals but has a triangular footprint rather than a round one," Kovel says. "We rolled a plate of steel into a hexagon shape then welded treads so they cantilever off of a column." The staircase fits inside a single 100-square-foot triangle and was in place the night before the structures were installed. "We threaded the modules down over the stair," adds Kovel, who also had modules stacked so triangle points would cantilever on the front facade, creating an entry porch, and on the rear, shading a deck made of recycled plastic. "Buildings that are custom-made to respond to their environments, connect to the outdoors, and celebrate the sun shouldn't be a luxury," he says. "Those should be something everybody gets to experience."
"I had Luna three weeks before we went over sketches," Taft says. "I needed this house to happen quickly and to be involved with the design." From plans to finished product, the project was completed in seven and a half months. "It just feels good," she says. "When you're inside this house, you feel like you're floating."