10 Modular Dwellings That Break Away From Traditional Building Practices
In most cases, areas in a home are designated by their use and separated into different rooms accordingly.
Consequently, each space is designed for an intended use and are most commonly separated by a wall. As with all architectural typologies though, anomalies exist—spatial oddities, or if you will, multifaceted spaces that can coexist in a structure. Introducing modular spaces allows separate structures to act as their own entities, and at the same time, function together as a cohesive whole.

Take a look at these modular homes, which explore different examples of how architecture can be arranged as a series of interconnected volumes. The 10 projects below demonstrate how a series of interconnected spaces can culminate in a unique, all-encompassing abode.
Situated on a five-acre site in Desert Hot Springs, this abode is oriented to best capture views of San Jacinto peak and the surrounding mountains. Large open spaces visually connect the indoor and outdoor spaces, as the structure extends through the landscape with additional covered outdoor living areas.
Newsletter
Join the Daily Dose Mailing List
Get carefully curated content filled with inspiring homes from around the world, innovative new products, and the best in modern design
Architect Aitor Iturralde Martín designed this pine-and-spruce-clad modular structure sourced from the Pyrenees (both recyclable and PEFC-certified). The simple double-module configuration is punctuated by a terrace and bold metal skeleton that cantilevers towards the landscape.
Designer/inventor Jaanus Orgusaar crafted a modular, hexagonal housing concept that creates space in geometric pattern. The rhombic dodecahedron is comprised as a shape found in nature (garnet, honeycomb, diamonds) in 270-square-foot modules, which make the interior appear rounded due to a lack of acute angles.
Architects Geoffrey Warner and BJ Siegel collaborated to design this prefab home in the Sonoma Mountains that offers uninterrupted views of the surrounding landscape through glass walls. Once two concrete plinths were poured and prepared, the modular residence was constructed in a single day after a pair of prefabricated cubes were lowered into place by crane and bolted down.
Architect Jim Garrison of Brooklyn-based Garrison Architects designed a retreat in Albion, Michigan, for visiting families on a picturesque lakeside stretch of land at a boarding school for troubled teens. The project emulates an X-shaped formation, with one end outfitted with floor-to-ceiling glass windows overlooking waterfront shore.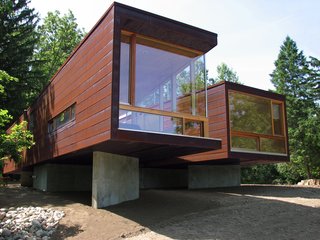 Anna Gor—director of the Arsenal National Centre of Contemporary Art in Nizhny Novgorod, Russia—decided against a custom project in favor of a prefab alternative. The structure features a porch at each end that's lined with stained plywood.
Designed by Bohlin Cywinski Jackson, this modular residence camouflages into the Oregon landscape with spectacular views of the surrounding area. Resting along the edge of a sparsely forested plateau near Bend, Oregon, the willowy building is intentionally oriented towards unobstructed views of the Cascade Mountains. The front facade is clad in fiber cement panels that feature a bright green entrance ramp and red door.
Just outside of Ellsworth, Maine, Peter Cohen designed this ingenious spine-and-module home for himself and his wife Sally. With experience designing a handful of smart, inexpensive, and structurally innovative houses over the last half century, the architect worked with the irregular, sloping site with views of the woods.
4 Architecture designed this Fishers Island residence with warm cedar cladding and white windows as an homage to the New England vernacular. The unconventional prefab was built with a customized floor plan by stacking, lining up, and joining factory-built, rectangular modules.
This modular vacation home was designed by Los Angeles firm Marmol Radziner for California–based landscape architects who have been working together for 25 years. The structure was built with "simple-simple, replaceable materials," with concrete floors and metal siding.