In Russia, a bipartite modular system gives way to a contemporary country getaway.
"My life's always been strictly urban," says Anna Gor, director of the Arsenal National Centre of Contemporary Art in Nizhny Novgorod, Russia. In 2015, as a bit of a lifestyle experiment, she bought a lot in front of her friend's holiday cottage outside the city. Finding inspiration in a lesson by Russian architect Mikhail Labazov, she decided to create "a small shelter for [her] favorite pursuits": reading, entertaining, and arranging flowers.
Newsletter
Join the Prefab Homes Mailing List
Get carefully curated content filled with inspiring homes from around the world, innovative new products, and the best in modern design
With her busy schedule at the Arsenal, Anna didn't have much time to think about her future house. Then she discovered DublDom online and decided that its prefabricated houses would be an affordable, efficient alternative to commissioning a custom project from an architect.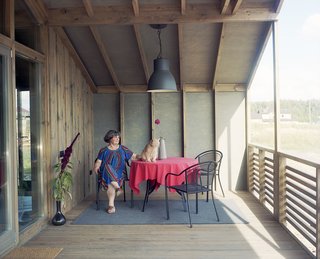 DublDom modular houses are designed and produced by Moscow-based architect Ivan Ovchinnikov, who created them as an alternative to the low-quality traditional-style houses common in Russian suburbs. Most people just want the basics—bedroom, bathroom, kitchen, and porch—for an affordable price, Ovchinnikov says. "Our task is to pack their wishes into a modern form, changing their way of life—and the countryside as a whole."
The smallest DublDom model, a cabin with a pitched roof, is made of two units. (DublDom is a play on "double home.") Each module's length (6 meters, or a little less than 20 feet) was determined by the standard size of timber products in Russia. Its width (about 8 feet) and height (about 10 feet) were defined by transportation rules.
The modules are joined by an insert along the roof spine, which gives the structures their distinctive pitched form rather than the blocky silhouette often seen in prefab construction. One DublDom house can be composed of several pairs of such parts, and more can be added later if an owner decides to expand. Anna's house, a version of the DublDom 2.87 design, is made of four modules—for now.
The timber-frame structure is made of pine planks with insulation between them; the cables and plumbing are installed in the walls before cladding is added. DublDom's default exterior finish is black corrugated steel, but there are many options. Anna chose Shinglas shingles for the roof and two sides of the house. Her DublDom boasts a high-performance envelope designed with passive strategies like a porch awning that protects the glass of the southern facade from summer sun but catches low winter light so well that even in freezing temperatures it can be warm inside without turning on the heat.
To date, Ovchinnikov has developed about 50 versions of the DublDom concept, but Anna's home is more personalized than most. (Since details as small as changing a faucet can cause a delay of a full week, Ovchinnikov plans to one day stock three standardized versions of DublDom's most popular models, which he envisions selling as simply as cars.)
For her getaway, Anna asked him to remove almost all inner partitions and doors—even on the bedrooms. "All my life I've lived in small, cramped places," she says. "I wanted to try to create an open, free space that continues beyond the glass facades."
Anna also customized the finishes, becoming one of the first DublDom clients to tint all the interior timber surfaces. The material's grayish hue coordinates with the home's red-and-gray color scheme, the same used at the Arsenal. The dramatic red ramp that leads to the main porch is another nod to Anna's workplace, specifically to the now-dismantled crimson entrance that existed during the reconstruction of its historical building. Other special features include the large mechanical room for a gas water heater and heating system (electricity is usually used for heating in DublDom houses) and built-in shelves for the books Anna inherited from her parents. She bought most of the furniture at IKEA, except for an antique chest and a dining table that her staff made. The small end table in the living area was a housewarming gift from Ovchinnikov to his client, who found the home she imagined so many times—with its pitched roof and two glass facades—realized as a DublDom.