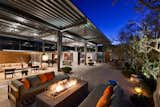 Iconic Modernism by Barton Myers
From Susan Hartzler
Described by notable Architectural Record as "one of the six most beautiful houses in the world," this Iconic Modernism by Barton Myers takes the coveted indoor-outdoor lifestyle to new heights. The extraordinary steel and glass home inspired by the California climate features huge windowed doors throughout that roll up, fully opening the house to the outdoors.
In fact, The American Institute of Steel Construction awarded this residence with a Merit Award in the Innovative Design in Engineering and Architecture with Structural Steel (IDEAS2) program for sustainable design and the use of exposed structural steel. Structural steel is manufactured mostly from scrap metal, so it's a green material and doesn't generate as much construction waste as a wood-frame structure.
The homeowners commissioned architect Barton Myers to design this unique property, which was completed in 2009. Myers is known for his work using steel as the primary component and has earned an international reputation for excellence in architectural design with projects ranging from houses to large urban developments. At every scale, many of Barton Myers' projects have been pioneering efforts – including this stunning Montecito one-of-a-kind masterpiece.