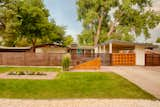 Credits
Builder
D.C. Burns Realty & Trust
From Adrian Kinney, Mid-Century Modern Real Estate & Design
Southwest Denver's Harvey Park neighborhood is home to the largest tract of Cliff May prefab houses outside of California. When real estate broker Adrian Kinney and his partner purchased one in 2013, their intent was to flip it and move on; instead they fell in love with the house, stayed for a few years, and Kinney was so inspired by the design of the house, that he now specializes in Denver's mid-century modern real estate and design. He was even recognized with the Mayor's Design Award in 2016 for his renovation on the house; for which all of the design work was his.
One of 170 prefabs manufactured by Cliff May Homes (designed by Cliff May and architect Chris Choate) and erected by a local builder in 1955, this house was one of the L-shaped plans offered by the company, which included a main wing with living areas and two bedrooms, adjoined by a wing containing a private master suite. May's intent with these houses was to blur the lines between indoor and outdoor living by situating the house within a private courtyard surrounded by a fence, and having many doorways leading outside, including one from the master suite.
A small fountain in the courtyard provides soothing white noise and is visible from inside the house through glass walls. The indoor-outdoor connection is improved by replacing the original stile-and-rail wood windows with full panels of glass the span the house's 64" grid of posts.
The original kitchen pony wall was taken down, and a new kitchen island added in its place, making for a single, open, and informal great room, which is large enough for entertaining, but not so large that it feels overwhelming. This is one of the real successes of Cliff May's prefab houses; modest size houses that have a real human scale to them.
New wood paneling warms up both the bedroom and living room, working together with the re-finished original oak floors. A tremendous amount of natural light comes in through the full height glass, and the "glass gables," clerestory windows under the eaves that can be found in the living room and all three bedrooms.
From the street, the original board-and-batten fence was replaced, and the house's original carport received a uniquely designed gate, complete with a remote-controlled opener. An address monument matching the characteristic angle of the Cliff May Homes roof was installed in the foreground. The overall composition of the house demonstrates another philosophy of Cliff May; that the house should not be trying to impress with grandeur and scale; but rather should fade into the landscape; a backdrop to the informal Californian living that he was bringing to Colorado.