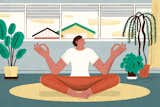 Dwell on This: Spring-Clean Your Indoor Air Quality
Fling open those windows and get proactive about busting dust and allergens.
Experience
You'll be breathing easier in no time.
Budget
Vacuuming doesn't cost a thing, but you might want to invest in an air purifier.
Time
Clearing the air is a matter of cleaning consistently.
Spring is in the air, but the quality of that air may be questionable. Winter has kept our windows and doors clamped shut for days, weeks, or even months on end. We compound musty air with every breath we take and meal we make. Factor in the need for heating, and you've got a home staler than the box of saltines at the back of your pantry.
Join Dwell+ to Continue
Subscribe to Dwell+ to get everything you already love about Dwell, plus exclusive home tours, video features, how-to guides, access to the Dwell archive, and more. You can cancel at any time.