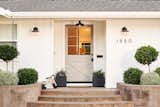 Partner Story

This Home Guide is presented by Level, whose smart locks pair high design with an intuitive approach to home entry.
Learn More
You can't judge a book by its cover, as the saying goes—but we all know that that's an adage often ignored. Make no mistake: first impressions are important, and when it comes to the home, curb appeal can be a persuasive factor in wooing potential buyers and renters. Even if your residence isn't on the market, having a home that welcomes you and your guests in style helps create a sense of arrival and sets the right tone for your sanctuary. Boosting curb appeal doesn't have to be a hefty investment, either. Below, we've rounded up some affordable—yet high impact—changes you can make to put the best foot forward.
Cultivate Your Greenery
Nothing obscures a handsome home like an unruly yard. Start by surveying the landscape: Does your lawn need watering, weeding, or resodding? Do the trees and hedges need trimming? On the flip side, the exterior may be looking a little bare. Planting new flora can go a long way toward rejuvenating the home—just be sure to choose plants that will thrive in your climate.
Blast Away the Grime
If it's been some time since you swabbed the proverbial decks, you'll want to rent a pressure washer to scour dirt, grime, and mildew from the driveway, walkway, and siding of your home to get them sparkling clean. If you're using the equipment on sensitive material, however, such as stucco, double check that you're using the right PSI.
Give the Front Door a Makeover
A fresh coat of paint can give your front door an instant "wow" factor. From a midcentury-inspired red or orange to a sleek, contemporary black, a contrasting—yet complementary—color can seriously amp up your home's curb appeal. To take things to the next level, swap out your door hardware for a more streamlined design, whether it be modern doorknob or an integrated smart lock.
Replace the House Numbers
It's not a good look for the house numbers to be outdated or tarnished, and it's not a good experience for visitors (or delivery workers) if your address is hard to see. From the ever popular Neutra numbers to minimalist plaques, there are plenty of options to suit your budget and style.