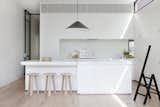 House of the Week: Surprisingly Minimal Victorian in Melbourne
Every week, we highlight one amazing Dwell home that went viral on Pinterest. Follow Dwell's Pinterest account for more daily design inspiration.
Our readers appreciated this remodeled Victorian's minimalist interiors and secluded courtyard.
The designers explain, "These steel windows played an integral part in making the interior feel larger and more open by blurring the boundaries between the interior and exterior." A grey Halcyon Lake area rug, an oak chair from MAP, and Hans Wenger Wishbone chairs make for a simple, neutral palette. The painting over the fireplace is by Kate Hendry.
The backyard features a vertical garden, called the "picking wall" by the designers of Weller Landscapes, for its selection of kitchen herbs. In regards to the courtyard's wood and concrete finishes, the architects explain how "[The] materials all had an honest raw quality about them, allowing them to age gracefully and acquire their own patina over time."