View Photos
These Cave-Like London Apartments Help Jet-Lagged Travelers Drift Off to Sleep
Cuckooz teams up with award-winning mattress company Simba to create The Zed Rooms—a series of serviced apartments that help jet-lagged travelers rest better.
In 2016, Charlie Rosier and Fabienne O'Neil founded Cuckooz—a design-focused serviced apartment brand that has properties in some of the most vibrant locations in London. Each Cuckooz project has interiors that are beautifully designed by an independent, up-and-coming industry talent.
In 2018, they collaborated with UK–based ergonomic mattress brand Simba to create three apartments in Spitalfields, a lively area near Liverpool Street Station with plenty of trendy bars, eateries, and shops.
The idea behind each Zed Room was to create a home away from home to help jet-lagged travelers overcome the "first night effect"—wherein international air travel and adjusting to a new environment often results in a poor night's rest.
Newsletter
Join the Travel Newsletter
Get carefully curated content filled with inspiring homes from around the world, innovative new products, and the best in modern design
Shop the Look
"As the majority of our guests are either suffering from jet lag or in town on business, it's imperative that they wake up in our homes feeling well-rested and adjusted to their environment, ready to take on the next day," says Rosier.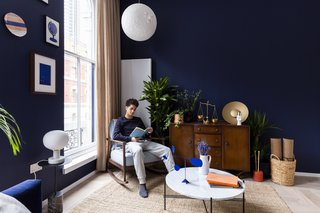 The three rooms were designed by Iska Lupton and Gemma Stansfield of London–based Studio Stilton. All rooms include Simba hybrid mattresses (which combine the support of 2,500 pocket springs with the comfort of memory foam), temperature-regulating pillows, and duvets for a healthy night's sleep.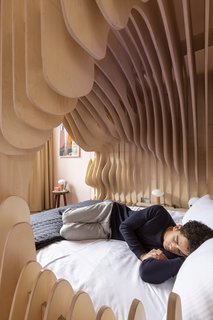 Studio Stilton curated every design element in the apartments to encourage restfulness and sleep. Two of the apartments have two bedrooms, and the third is a one-bedroom penthouse.

The two-bedroom units contain two different sleeping areas—the Woom and Loom rooms. Designed to echo the snug security of a mother's womb, the Woom features an intricate cocoon-like bed constructed by the team at EJ Ryder.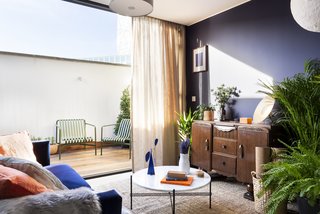 The furnishings in the living areas have rounded edges and softened corners, and there are even rocking chairs to lull guests into a state of serenity.
"The prints on the walls have also been chosen to be inspirational dream fodder, and the penthouse terrace comes complete with yoga mats, meditation sessions via the iPad's Calm app, and naked light bulbs to create a sense of simplicity," says Lupton.
"The lamps filter out blue light, which is known for keeping us awake. The Lumie alarm clocks in each bedroom mimic the light and color of a real sunrise, so when you open your eyes, you feel awake and refreshed. This helps to regulate your sleep-wake cycle and has even been shown to boost mood, energy, and productivity levels for the rest of the day," says Rosier.

"With The Zed Rooms, we've created a kind of urban haven—a place of respite for traveling insomniacs in a city that never sleeps," adds O'Neil.