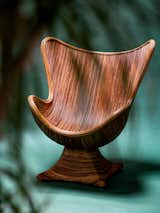 A Cane Chair Takes Pride of Place in a West Oakland Plant Shop
Kalu Gebreyohannes and J'Maica Roxanne of Blk Girls Green House share why they find the chair both powerful and beautiful.
Kalu Gebreyohannes: A friend of my boyfriend's, designer Dee Speed, makes really dope furniture, and she was clearing space in her studio and this chair became available. He snagged it, and I was slick and brought it to our shop as a prop for my birthday party. It was cool because we didn't have to force it—it just flowed really well with the space. 
Join Dwell+ to Continue
Subscribe to Dwell+ to get everything you already love about Dwell, plus exclusive home tours, video features, how-to guides, access to the Dwell archive, and more. You can cancel at any time.