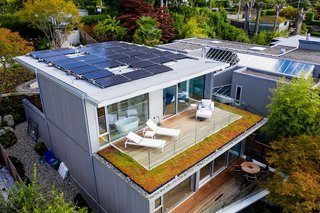 An Engineer Builds the Net-Zero Passive House of His Dreams in West Vancouver
An engineer hires BattersbyHowat Architects to design the perfect Passive House on a hillside overlooking English Bay.
James Dean believes his 4,000 net-zero-energy home is the future of construction. Situated on the southern slope of the mountains along English Bay, with three stories of wall-to-wall glass, it gathers effusive sunlight during the cooler months, reducing the need for heating. Terraces flow from each level, blocking direct sun during the hot summer months.
"It's the perfect place to build a net-zero energy or passive home," says James. "It's basically floor-to-ceiling glass on all three levels. In Passive House they talk about the proper orientation of the home, and on the north shore of Vancouver, all of the homes are on the side of the mountain facing south, so it's the perfect place to take advantage of the sun."
Built of four-and-a-half-inch prefabricated cross-laminated timbers, the structure was erected in a few weeks rather than months, reducing construction costs and exposure to rain. And the volume is insulated by 17-inch walls, which retain heat and virtually eliminate thermal bridging—the conduction of heat through the building envelope—to maximize comfort.
"In Vancouver, we get a lot of rain in the wintertime, and we didn't want to have guys outside banging nails in the pouring rain," he says. "All this wood that's behind these membranes would be soaking wet—versus building in a climate-controlled environment, getting it up super quick, and getting it all wrapped up so it's not wet."
James became interested in Passive Houses as an engineer running a company that developed energy- and heat-recovery ventilators—key components of energy-efficient homes that are now required for new homes in Canada. Since a certified Passive House must undergo a blower test to ensure that it's airtight, ventilators are needed to freshen the air.
The ERVs and HRVs James produced at dPoint, since acquired by Zehnder Group, use a Gore-Tex membrane to retain moisture while circulating air and recovering heat. He became passionate about energy efficiency and healthy buildings.
After living in the same home for 19 years with his wife and family, James wanted to build an energy-efficient home. His wife was on board except for one thing. "I told my wife about Passive Houses, and she went and Googled them, and she said, 'James, I admire your belief in sustainability, but they're all really ugly.' And I said, 'Well, they don't have to be.'"
James reached out to one of Vancouver's top contemporary architecture firms, BattersbyHowat, and challenged them to design a beautiful energy-efficient home. The result is a 4,000-square-foot, three-story building with a solar roof, two terraces, and two landscaped gardens. The open living/dining/kitchen area has white oak cabinetry with Caesarstone countertops, a fireplace with a heat-exchanger and an airtight glass aperture, and triple-glass sliding doors leading to the terrace.

A stairwell supported by white oak vertical slats steps up to a master bedroom with an extensive walk-in dressing room. The glass-walled bathroom has a soaking tub, glass-enclosed shower, and custom white oak vanity. The bedroom extends through a glass door onto a terrace decked in wood with a sedum border. Two bedrooms for the kids and a separate bathroom face the front and have an additional balcony.
Shop the Look
A wine cellar complements a full bar in the basement, where a rock beneath the foundation protrudes into the cave-like environs to provide a naturally cool temperature. The garage is topped with sod.
The house has become an attraction for local media and university students, and he gives tours of the space to educate tradespeople and the public. "One the reasons why I did it was to educate our community that you can build a home like this that's net-zero energy (I'm selling more energy back to the utility than I'm using)—and it doesn't have to cost that much more," James says. "These net-zero energy homes don't have to cost that much more, they can still look really beautiful, and they're super healthy and comfortable."
He notes that the clean air and moisture retention reduce the spread of viruses—potentially significant in a time of pandemic—and although he sometimes suffers from pollen allergies on bike rides, when he gets home his symptoms suddenly go away.
"Originally, when we did this it was all about beauty and energy efficiency, but now we realize that there are all these benefits around health and comfort," he says. "I get into my house where I've got all of this fresh filtered air, and within a half hour all of the sneezing goes away."
Get the Dwell Newsletter
Be the first to see our latest home tours, design news, and more.