Budget Breakdown: One Couple Give a 1969 Airstream Globetrotter a Dreamy Makeover For $19K
The husband-and-wife duo behind Colorado Caravan transform a 1969 Airstream Globetrotter for $19,180.
Over the past two years, Denver couple Kerri Cole and Patrick Neely of Colorado Caravan have been renovating vintage Airstream trailers, transforming them into sales offices, bars, and even hotel rooms for motor lodges. Below, we dive into their work on a vintage Airstream purchased from Craigslist, breaking down the costs and labor.
Newsletter
Join the Renovations Mailing List
Get carefully curated content filled with inspiring homes from around the world, innovative new products, and the best in modern design
"Most of the phone calls we get aren't for travel," says Neely. "People call wanting a mobile nail salon or something they can park at businesses. These trailers are so iconic that you can do anything with them. They are a great structure—easy to move and very designable."
Neely, who originally was flipping houses and fixing up vintage cars, recently made his segue into transforming other structures like shipping containers and eventually Airstream trailers. His wife Cole, a talented designer, handled all the aesthetics.
After putting in a "want ad" on Craigslist, they received a call about a 1969 Airstream Globetrotter in Fairplay. For $2,500, the 21-foot trailer was a good deal. But with water damage and mice nesting in the insulation, the mobile home called for a full renovation.
The total gut job involved ripping up rotted flooring and paneling, and re-insulating the walls. Overhead storage and wall cabinetry were removed to maximize space. "It was so spacious when we got rid of the upper cabinets," says Cole.
The "wet bath," a shower and sink made from a large molded piece of fiberglass, was left as is.
Although they were "kind of on a budget," the couple splurged in some areas with the renovation, like the A/C and two-burner gas cooktop. "We spent money where we had to," says Neely.
And to cut costs, they purchased basic appliances. New engineered wood flooring, IKEA cabinetry and walnut veneer countertops were installed. For decor, a simple palette of colors and materials allows the space to appear bright and airy.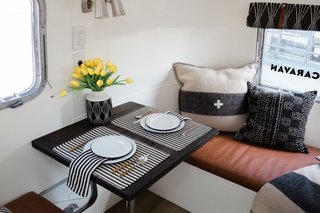 "It being such a small space, we stayed away from kitsch and color and went for a hip monotone aesthetic," says Cole, "and really just blacks and whites with touches of leather and brown."
Currently, the space is used as the couple's sales trailer and showroom. And if the mood strikes them, they also have the option of taking it on the open road.
As Neely's first Airstream renovation, he had a steep learning curve.
"The draining parts were the initial education of trailer rehab in the beginning," says Neely. "Airstreams have evolved through the years. They changed the ways they did windows and doors, and functions like window latches and stuff. For instance, what do I have and where do I find these pieces and parts? It involved a lot of online shopping and finding Airstream forums that were helpful."
After finding the right resources and tools, the hands-on work took Neely around six months of working on and off. And in the end, the renovation came in just under $20,000.