View Photos
Artist Tyler Hays' Cheeky, Handmade Urinals Make a Splash in London
Duchamp may have introduced the urinal as art, but these handmade pieces go a step further.
Artist and sculptor Tyler Hays just launched his first UK solo show, where his new ceramics hang on walls like paintings. They carry the charm of lovingly handmade crockery—like a favorite coffee cup—though they take an altogether different form. Beyond what reads as a playful reinterpretation of the public toilet, Hays' Urinals exhibition seeks to topple our long-lived acceptance of the object's place in the public bathroom.
Get the Dwell Newsletter
Get carefully curated content filled with inspiring homes from around the world, innovative new products, and the best in modern design.
The seven urinals in the exhibition are hand-painted with blue vignettes—Hays' signature. Each textured chassis frame a wistful sketch portraying a pastoral scene steeped in Americana. "Domestic Dispute" is a monochromatic, scrimshaw-like painting that shows a country man wrangling a pheasant as his wife comically wields an axe behind his back. The country setting evokes a back-to-the-land ethos seen in much of Hays' work, and the copper fixtures and appliqués show off his well-honed skillset.
It's been a winding road for Hays, who first started showing art in the mid-'90s. "I was really just a dirtbag Brooklyn artist handyman with a table saw and a couple of buddies. I had no idea of the journey I had embarked on," he says. Since then he's worked in myriad creative industries—including music, fashion, architecture, and furniture design, to name a few.
Hays spent his mid-20s in New York selling paintings and sculptures so that he could eat, but he transitioned to more commercial affairs after growing tired of scraping by with his art. He launched the design company BDDW, which provided new and exciting creative challenges—and an income independent from his artwork. "I need a lot of varied projects to empty myself out creatively," says Hays. The financial stability allowed him to create art in a more pure way.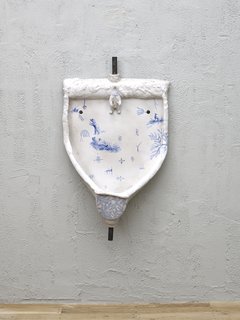 Hays was raised in rural northeast Oregon, and he's inspired by 19th-century American life because of the era's connection to raw materials and its focus on resourcefulness and self-reliance. In his multiple endeavors—which also include the home goods store M.Crow—he's earned authority at the intersection of form and function. The urinal, once purely function, is now all form as a nostalgic, dreamy wall hanging.

The show just opened at Blue Projects, the exhibition arm of Blue Mountain School, which hosts experimental work in non-traditional gallery settings. It runs until September 1.
Related Reading: This Mesmerizing Array of 3,500 Flowers Is About to Blow Up Your Instagram Feed