View Photos
Budget Breakdown: A Maui Couple Build an Off-Grid Tiny Home For $45K
Custom-built from the ground up, a 360-square-foot tiny house on wheels is an affordable, off-grid paradise for a family of three in Hawaii.
Fed up with the lack of affordable housing in Maui, Zeena and Shane decided to take matters into their own hands by designing and building a custom tiny house from the ground up.

"Rather than paying a chunk of our income into something we would never own, we decided to take the risk to build something specifically for us," Zeena says. "It also helped that my husband comes from a family of carpenters, which influenced our decision greatly because we had the tools and skills to complete this project."
$7,500
Chassis
$5,400
Framing
$1,300
Windows
$650
Roofing & Gutters
$3,100
Plumbing
$1,400
Electrical
$1,600
Drywall & Insulation
$1,080
Doors & Trim
$2,000
Cabinets
$470
Countertops
$1,000
Paint
$2,250
Flooring
$5,200
Appliances
$540
Driveway
$4,800
Water Catchment
$5,900
Solar
$850
Miscellaneous


Grand Total: $45,000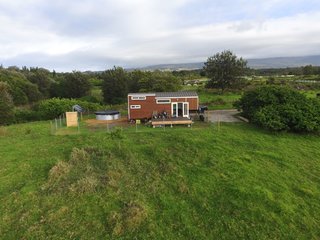 Newsletter
Join the Tiny Homes Newsletter
Get carefully curated content filled with inspiring homes from around the world, innovative new products, and the best in modern design
A self-described "labor of love," the tiny house took the couple two years to complete between their full-time jobs—the ambitious design/build was also made all the more challenging by the couple's concurrent wedding planning.
To stay within their tight budget of $45,000, the newlyweds did all the work themselves with help from Shane's father, a master carpenter.
"From fabricating the trailer to plumbing and electrical, we did it all," Zeena notes, adding that building the 26-foot gooseneck steel trailer themselves ended up saving thousands of dollars.
"I wish we hired someone to do the taping and finishing of the drywall—this was my least favorite project to complete in our house—but we didn't. In the end, it was such an incredible experience to have worked every stage of the build."
Having grown up in Maui, Zeena and Shane cultivated a love for nature and wanted to bring the outdoors in with plenty of natural light, stained wood details, and an abundance of landscape views. An open floor plan and high ceilings also helped create a spacious, airy feel.
Shop the Look
Perhaps the biggest nod to the couple's commitment to sustainable living—and savvy financial planning—is the tiny home's off-grid operations. Solar panels power the home's electricity needs while a 3,000-gallon rainwater catchment tank provides the water supply. The bathroom is equipped with a composting toilet.

A few months after the couple moved into their new home in January 2017, Zeena became pregnant with their son, Maverick. Although their initial design didn't accommodate a baby, the couple successfully modified their office into a nursery.
"I absolutely love that we got to design our home for us," Zeena says. "It's functional for our lifestyle, and the size constraints having been such a lesson on minimalism."
"We have loved every moment of paring down our things. It's definitely been a process, but the peace, order, and calmness that fills our home now has been a refreshing reward to the new lifestyle change."