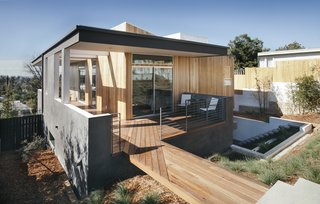 A Tiered Home in Los Angeles Hugs a Steep Slope
Referencing Case Study architecture, Three Step House in Silver Lake gradually climbs a curving site.
Aptly named Three Step House for its three tiers, this residence by Los Angeles–based studio CHA:COL sits on one of the few remaining plots in the Silver Lake that hasn't been built on in the past. The house's steeply sloping site, which looks out on downtown Los Angeles, was only accessible from the lower end, so it was crucial to locate the rooms and living spaces at just the right levels to capture the views.
Because of the nature of the site, the house would need to be accessible vertically from the public access road, so it couldn't be set too far high up, or too far back. And since the site curved steeply, the house would need to use the topography intelligently.
Apurva Pande and Chinmaya Misra, the husband-and-wife duo behind CHA:COL, responded to the owners' needs with a three-step dwelling, where each level precisely addresses the topography to avoid the need for elevators or excessive switchback stairs.
The owners also wanted their home to maximize the city views, and include plenty of outdoor areas.

The most recognizable aspect of the house is this sweeping canopy, which uses cantilevers to minimize grading, and to ensure the volumes feel airy rather than restrictive.

"The aesthetics paid homage to the rich Case Study modern tradition of Silver Lake and Los Feliz—generous roof canopy, cantilevered massing, stepped levels, interconnected indoor-outdoor decks at every opening and level," says Pande.
Shop the Look
Get the Dwell Newsletter
Get carefully curated content filled with inspiring homes from around the world, innovative new products, and the best in modern design.