Los Angeles's Mohawk General Store, founded in 2008 by husband and wife Kevin and Bo Carney, is less like a shop and more like a friend's apartment. Blown-glass and powder-coated steel pendant lamps hang above glass-and-steel tables topped with jewelry and small ceramics; records and design books line the wooden wall shelves; shirts, dresses, and bags designed and made in the United States and abroad drape from hangers; and comfy chairs and sofas give everyone a place to lounge.

Though originally on Mohawk Street—hence the name—the store has since relocated to the heart of hipsterrific Sunset Junction. In addition to joining a new retail neighborhood (being able to "park and walk to a few places is a rarity in Los Angeles," Kevin says), the store also has a new collaborator: Ellen LeComte, who imports furniture from the Netherlands for her wholesale warehouse Amsterdam Modern and the store. "It's not the normal mid-century stuff," Kevin says. "It's things most people here haven't seen before." And though some of the goods may be foreign, all the designs feel right at home.
What prompted you to launch Mohawk General Store?
Kevin Carney: I wanted a place to sell my shoes [Carney is the founder of the Generic Man shoe company]. Now the goal is as much about being continually inspired as it is about being a business. It's finding an amazing piece and instead of it being a private discovery, letting it be a public experience.
What's the new shop like?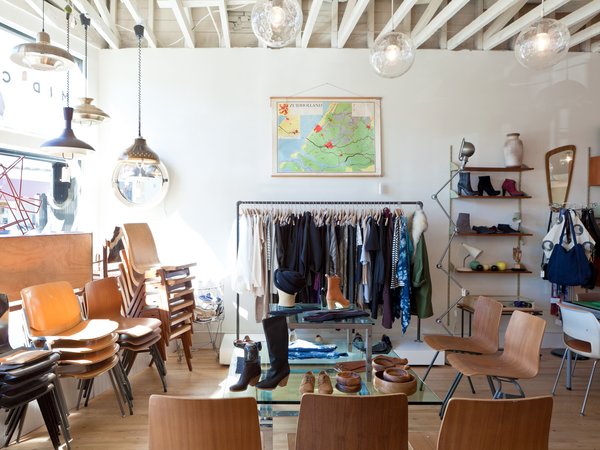 We've created a big living room for people. You can come in and pick up a book or sit on a couch. The guys go straight for the stereos.
What made Amsterdam Modern a good fit as a furniture partner?
We did a pop-up shop for Urban Outfitters together. Ellen's husband is Dutch, and she brings in really different, unique pieces. We appreciate people who come in wanting to be challenged.
Who is your ideal client?
We get three different customers: There's the person who only sees furniture, and the person who only sees clothing, shoes, and jewelry. Then there's the shopper who takes it all in and says, "Wow, I've never seen all of this in one place."
You also mix local and international designers.
There's an immediacy and intimacy to working with locals and friends. When something sells, you can just call and ask them to drop off another piece. But we mix American brands, such as Engineered Garments, based in New York, with those from abroad that catch our eye, too: A.P.C. from France, Comme des Garçons from Japan, Ellen's furniture from the Netherlands.
How do you select an item to sell?
I look for a good story. Customers like that. They like to know the designer, the materials, the details.
Who are your new neighbors?
This is the center of L.A.'s artist communities. Intelligentsia Coffee is right here. There's Cafe Stella, a great French restaurant that really reinvigorated the area; Bebop Interiors, a furniture store; Zachary's Smile, a women's vintage and new clothing shop; Forage restaurant; ReForm School, a craft and design shop; and even a farmers' market that happens every Saturday.
What's next?
We're planning on hosting exhibitions and creating window installations with local artists. We've also started making shoes exclusively for the shop. I'd like to do more specialty pieces with designers and cocreate things you can't get elsewhere. It'd be a creative outlet for us and another reason for everyone else to check out our store.